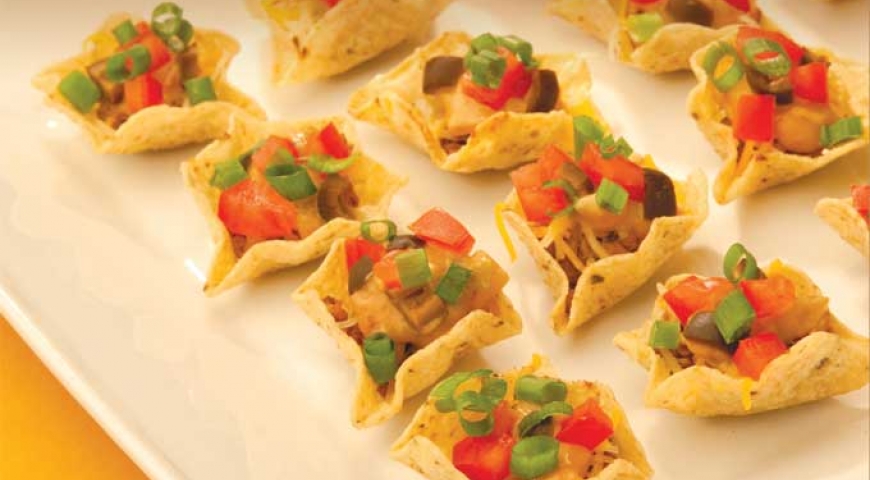 Description
Perhaps one of the nicest things about Thanksgiving are the leftovers. This recipe makes one of the best uses of leftover turkey that I've seen in a long time.
2 cup
leftover turkey meat (chopped up fine)
1 pkg
Lawry's taco seasoning
2 cup
shredded cheese (preferably mix of jack and cheddar)
1 pkg
Tostitos brand Scoops
1/2 cup
green onions (diced; optional)
Heat non-stick skillet on medium-high. When hot, add 1 tablespoon oil, turkey meat and taco seasoning and water. Cook for 10 minutes, until turkey has absorbed most of the liquid. When done, drain and set aside to cool. In a separate bowl, mix together guacamole, salsa and sour cream; set aside.
On a cookie sheet lined with foil or parchment, lay Tostitos brand Scoops in a single layer. Spoon ½ teaspoon of turkey meat, then ½ teaspoon of cheese. Broil on second rack from the top just until cheese melts – about 2 to 3 minutes. Make sure not to burn the nachos. Place ½ teaspoon of sauce on each nacho, sprinkle with green onions, olives, tomatoes, and serve immediately. If not serving immediately, leave sauce on the side and serve as you eat, otherwise the nachos will become soggy.
Recipe brought to you by:
Find more Quick & 'Ono bites under these categories:
Source: