Enroll Today to Start Earning KTA Diamond Points
Only at KTA Super Stores Waikoloa Village.
Coming soon to all KTA Super Stores locations in 2024!

 
Earn up to 500 Diamond Points = $5 for enrolling!
✅ 200 Diamond Points for enrolling with a name and phone number.
✅ 300 Diamond Points for adding an email address.
Enrolling with a name & phone Number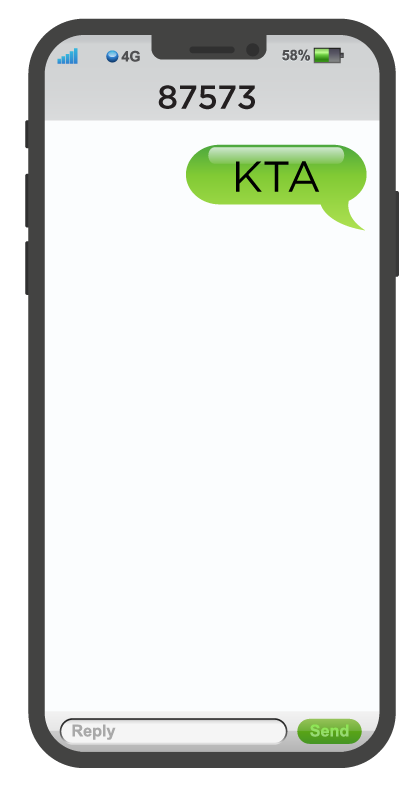 Enroll Via Text:
Text "KTA" to 87573 with a mobile phone or scan the QR Code with any mobile camera.  
Click on the link in the text message reply to complete the signup process online.
Once you receive the text message reply, your account had been created, and you can enter your mobile number at the Diamond Rewards terminal at the register and start earning points when you shop!
NOTE: Email and Birth Dates are required to receive exclusive offers, and rewards.
At any Register In-Store:
Go to any Register and tap the Diamond Rewards touch screen terminal. On the sign-on screen, enter your phone number (including the area code) using the onscreen keypad.
Verify if the number is a mobile or landline.
Enter your email address or press "skip" to save time at the checkout and enter it later!
Select if you'd like a digital receipt. We recommend yes! (Available for mobile numbers only)
The Diamonds Rewards Coupon screen will be displayed. You are now ready to start earning points for your purchases!
 After you complete your transaction you will receive a text message. Follow the link in the text to complete your registration online. If you registered with a landline phone number, please visit the KTA Customer Service Center to complete the sign-up process to receive all the benefits of the KTA Diamond Rewards program!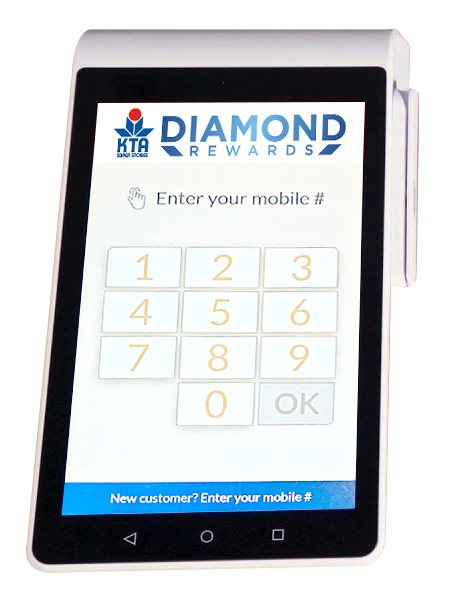 NOTE: Digital receipts or text offers do not apply to landline phone numbers.
Opting in for Offers via Text Messages
How to Opt In:
After enrolling via Text "KTA" to 87573 complete the registration process online with the link in the text message reply. 
Click the link to go to the website to complete the signup process.
The "Let's be friends!" message will be displayed, asking if you want to receive promotional text messages.
Click the "Accept" button to receive text messages & "Accept" again for terms & conditions.
A new screen will be displayed to enter your Name, Email & Birthday (Month/Day)
*if you have already entered this information, this step will be skipped.
Enter information then press "next" to continue.
A new screen will be displayed to enter a mailing address.
*if you have already entered this information, this step will be skipped.
After entering all the information, press "Complete". A "Thank you for shopping with us" screen will be displayed. The sign-up process is complete!
Update Your Profile - Add an email and/or birthday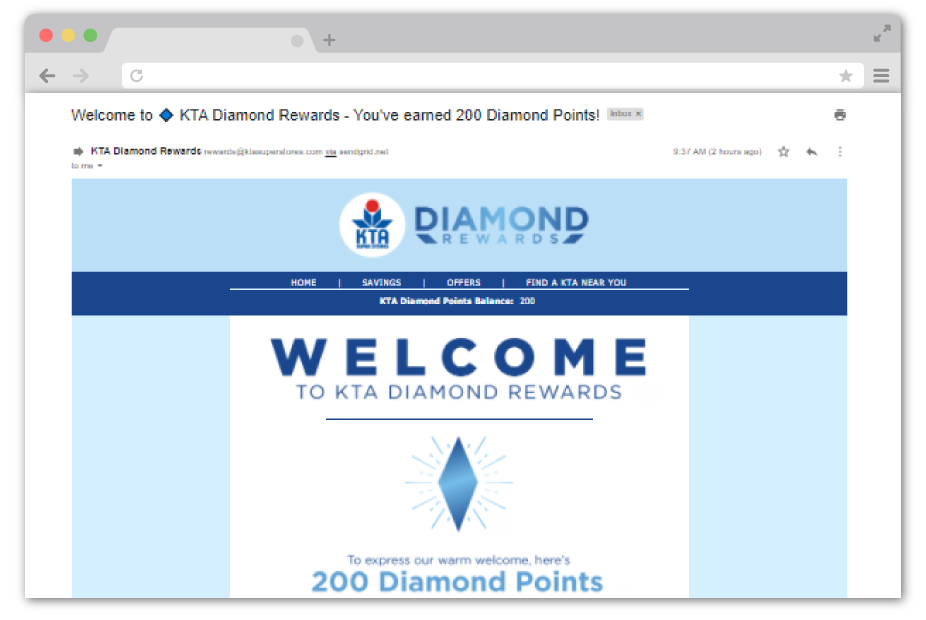 Enrolled in Diamond Rewards without adding your email address or birthday?
Add/Update your Profile Information:
Login to your Diamond Rewards Account on ktasuperstores.com/rewards.
Click on the "more" icon in the upper left of the screen.
Select "Profile" from the menu.
Type in your account information and click "Submit"
* Bonus offers are available for a limited time only. Diamond Points will be automatically applied to your account after your next transaction at a participating KTA Super Stores location using your Diamond Rewards account at the terminal.