Score for Scholarships at KTA Super Stores to support a program that has been awarding scholarships to the University of Hawai`i at Hilo athletes since 2003. Stock up on participating brands that help local college athlete scholarships grow.
Between February 12 and March 10, shoppers can purchase participating Score for Scholarships products from Hershey's, ConAgra Foods, Nabisco, Gatorade, Kraft/Heinz, Banana Boat, Hawaiian Sun, Diamond Bakery, Pepsi, Kellogg's, Wild Harvest, Proctor & Gamble, Love's and KTA Super Stores will donate to the University of Hawaii at Hilo Vulcan Athletics Program.
Cheer the Vulcan athletes on all year long. KTA donates $50 for every 3-point basket the Vulcans score during the basketball season; each goal in soccer is awarded $100; and, volleyball scores $50 for every ace serve. During baseball and softball games, the Vulcans receive $25 for strikeouts, $50 for doubles, $75 for triples, $100 for home runs and $500 for grand slams.

Every time the Vulcans score, athletic scholarships grow.
---
KTA's 32nd Annual Supermarket Safety Poster Contest
with Hawai'i Island 5th Graders
Dear 5th Grade Teachers on Hawai'i Island,
We, at KTA Super Stores, are very concerned about the safety of our customers, as well as the security of their personal belongings. It is time, for our 32nd annual Supermarket Safety Poster Contest. All 5th grade students are invited to participate!
Prizes will be awarded in the following five categories:
SHOPPING CART ACCIDENTS
CHILD SAFETY
FOOD SAFETY
THEFT (Shoplifting)
SLIPS AND FALLS
Rules and guidelines for the poster contest are as follows:
Participants must be in the 5th grade, ages 10-11.
Student's name, school, teacher, and category entering must be on the back of the poster. Enclosed is a template of labels.
Posters should be standard size; 12 inches x 18 inches. No posters larger than 14 inches x 18 inches.
Completed posters must be submitted no later than Friday April 3rd, 2020 at the designated KTA Super Stores locations listed below.
If you are a teacher submitting you classes entries, please provide a typed/printed list of participating students names with the poster entries. Click here for a fillable form.
Submit Entries by Friday, April 3, 2020 to:
Our poster contest is an open to 5th graders island-wide and will be separated into 3 contests depending on school districts.
Hamakua District: Submit entries to KTA Waimea
Kona District: Submit entries to KTA Kailua-Kona, KTA Keauhou or KTA Express, Kealakekua
Hilo District: Submit entries to KTA Puainako
Home School entries should be turned in to the nearest KTA Super Stores location.
Judging & Prizes:
Judging will be done the week of April 6th , 2020.
Prizes will be awarded for 1st, 2nd, and 3rd place in each of the five categories.
Posters will be judged on: CREATIVITY, ARTISTIC VALUE, ORIGINALITY and how well the MESSAGE OF SAFETY is displayed on the poster. Spelling and grammar will also be considered.
Each participating student will be awarded a gift, which will be delivered to their school sometime during the week of May 11th, 2020.
A list of winners will be sent to your school, indicating when and where the winning students will receive their prizes.
To assure authenticity, please allow class time for students to work on their posters. If you have any questions regarding the contest, please contact me or leave a message anytime. We are looking forward to your participation!
Aloha,
Janel de Jesus Bolner – Safety & Security Team Leader

Questions? Please email: Janel_deJesus-Bolner@ktasuperstores.com
---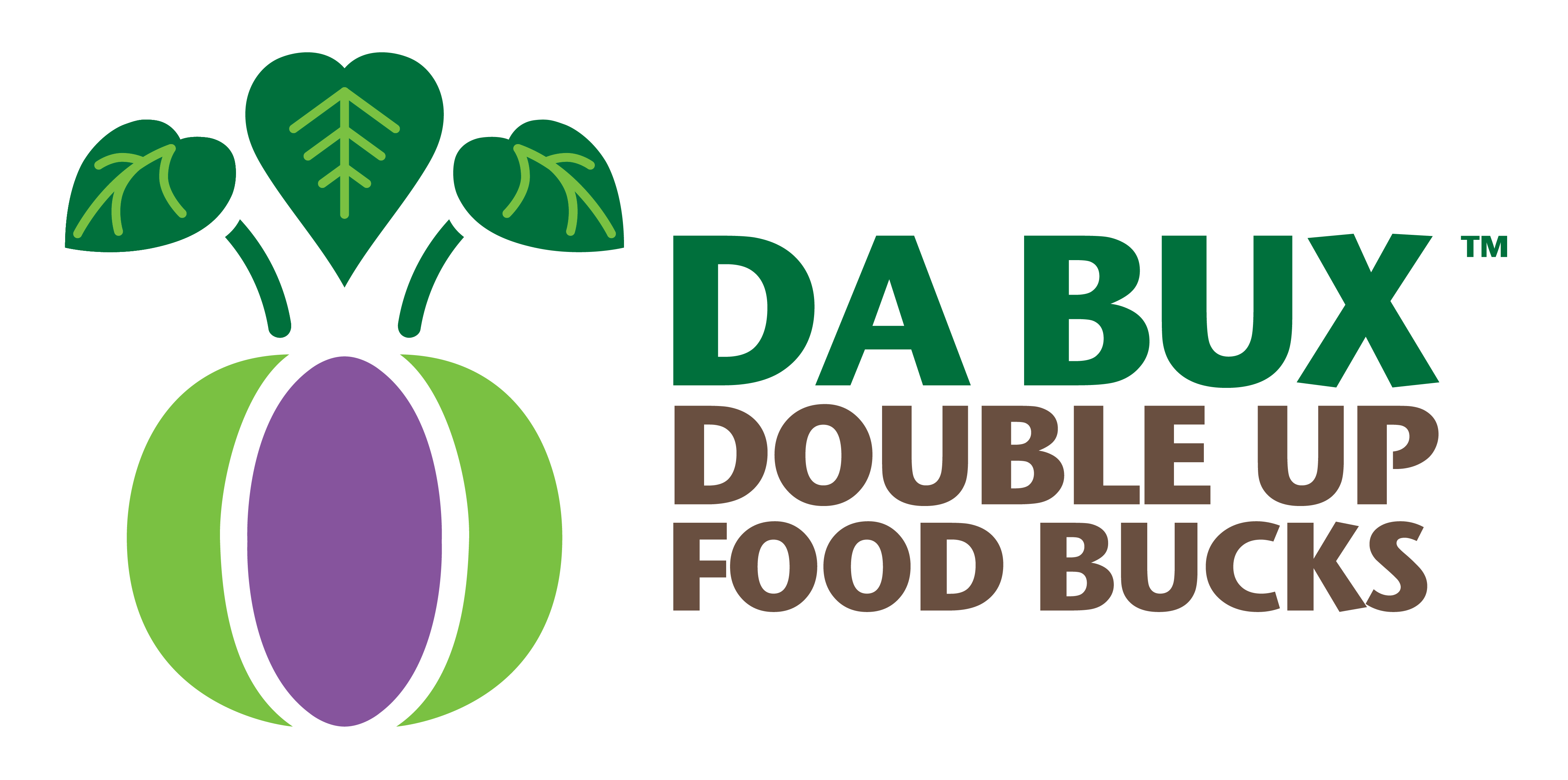 Double Up Your Food Bucks
Receive 50% off qualifying Hawai'i grown fruits and veggies on Snap-EBT purchases with a DA BUX!
DA BUX is a program (in partnership with the Hawaii Island Food Basket) designed to encourage SNAP users to eat healthier by promoting the purchase of fresh fruits and
vegetables.
WHO: SNAP (EBT Food Stamp) Users
WHAT: Get 50% off (up to $20) on qualifying Hawai'i grown fruit and veggie purchases with DA BUX.
WHERE: Any KTA Super Stores location island wide.
WHEN: Purchasing select locally grown produce items with SNAP (EBT Food Stamp) benefits.
HOW: Sign up for a DA BUX discount sticker at any KTA Super Stores/Express Customer Service Center.
Step 1: Shop for qualifying DA BUX fruits and vegetables. Look for the DA BUX logo on the price signage.
Step 2: At checkout, give your DA BUX discount sticker and SNAP-EBT card to the cashier BEFORE swiping your SNAP-EBT card.
Step 3: After ringing up all your items, the cashier scans your DA BUX discount sticker to take 50% off qualifying produce purchases. (maximum $20 discount per transaction, per day; the discount can only be applied at the time of your qualifying purchase)
Step 4: Swipe your SNAP-EBT card to pay for your purchases. (a minimum of 1 cent of SNAP-EBT must be used to receive discount, any other payment methods can be used to pay for the remaining balance)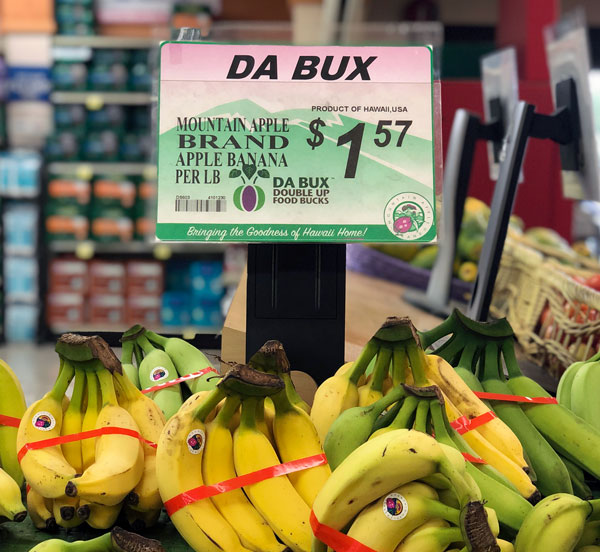 Participating Prodcuts
Avocado
Apple Banana
Mountain Apple Brand Apple Banana
Organic Apple Banana
Island Banana
Mustard Cabbage
Cucumber
Japanese Cucumber
Keiki Cukes Mini Cucumbers
Lone Palm Farms Alfalfa Sprouts
Lone Palm Farms Alfalfa-Garlic Sprouts
Lone Palm Farms Alfalfa-Onion Sprouts
Lone Palm Farms Broccoli Sprouts
Lone Palm Farms Clover Sprouts
Lone Palm Farms Daikon Sprouts
Lone Palm Farms Mixed Sprouts
Lone Palm Farms Mung Beans
Lone Palm Farms Sunflower Sprouts
Lone Palm Farms Taro Leaves
Lone Palm Farms Snow Pea Sprouts
Butter Lettuce
Prime Kine Butter Lettuce
Prime Kine Moana Lettuce
Organic Baby Romaine Lettuce
Organic Mango
Mother Natures Organic Choy Sum
Mother Natures Organic Miracle Salad
Mother Natures Organic Arugula
Mother Natures Organic Chard
Mother Natures Organic Kale
Mother Natures Organic Mustard Cabbage
Mother Natures Organic Parsley
Mother Natures Organic Cilantro
Hamakua Ali'i Oyster Mushroom
Kapoho Solo Papaya
Rainbow Papaya
Red Flesh Papaya
Diamond Star Sunrise Papaya
Dole Pineapple
Maui Gold Pineapple
Mokuwai Piko Poi
Mokuwai Piko Poi Pops
Mountain Apple Brand Poi
Taro Brand Poi
Taro Brand Ready to Eat Poi
Waipi'o Valley Taro Products Poi
Sweet Potato
Taro Brand Bean Sprouts
Taro Brand Clover Sprouts
Taro Brand Radish Sprouts
Taro Brand Soybean Sprouts
Hilo Products Taro Leaf
Kamuela Tomato
Kawamata Tomato
Participating items are subject to change without notice based on product availability. See a KTA Super Stores produce department for details.
Questions? Please call The Food Basket at 808-933-6030. DA BUX discounts are available daily until December 29, 2020
---
Dashing to the Save-A-Tape
November 29 to December 24, 2019
Save 700 register points dated
Friday, November 29, 2019 to Tuesday, December 24, 2019
to qualify for your choice of the following items FREE*!
(*at no additional cost.)
Kauai Shrimp (2 lbs.)
Hormel Pecanwood Smoked Ham (4 lbs., chilled)
Two River Ribeye Beef Steak (2 ct. – 6 to 8 oz., frozen)
Hormel Goteborg Sausage (1 ct.)
Mountain Apple Brand Kalua Pork (2 ct. - 1 lb.)
Gold Leaf Chicken Thighs (3 ct. - 5 lbs., frozen)
May's Hawaiian Style Teriyaki or Premium Patties, Local Boy Sliced Pork or Boneless & Skinless Teriyaki Chicken Thighs (2 ct. - 2 lbs., frozen)
Hormel Gatherings Party Tray (28 oz.)
or...
Save 400 register receipt points
and get your choice of the above for $7!
Save 500 register receipt points
and get your choice of the above for $5!
(Cash only; tax included. Purchases of product certificates will be handled at the Customer Service Centers).
*at no additional cost.  Sorry, Online Purchases, Gift Card, liquor and tobacco purchases and excise tax do not qualify. Certain Institutional (Federal, State, County, Non-Profit and Business) charge accounts do not qualify.
KTA Super Stores/Express reserves the right to reject any receipts that are questionable as to how they were acquired. However, we will accept "pooled" receipts from eleemosynary (charitable, non-profit and church) organizations only.
Check the Save-A-Tape total in the lower portion of your register receipts and turn them in at the Customer Service Center with the special accumulator.
LIMIT ONE FREE PER QUALIFYING ACCUMULATOR TOTAL. Subject to availability. Sorry, no substitutions. While supplies last!
Certificates not redeemable for exchange, cash or refund.
Redeemable at KTA Super Stores/Express. Receipts and accumulators must be turned in by Tuesday, December 31, 2019 to obtain a merchandise certificate.
All merchandise certificates must be redeemed by Tuesday, February 11, 2020.
 
---
SHOP

 at KTA Super Stores July 31 - September 10, 2019
BUY
participating products
(Each product equals 1 point)
DONATE

 points to your favorite school at the checkout
This year marks the 26th anniversary of the Kokua i Na Kula program. The program began in 1994 and has provided more than $2 million to Hawai'i Island Schools to improve the educational experience of its students.

KTA Super Stores and Kraft/Heinz along with Nabisco, Purina, Gatorade, Hawaiian Sun, Kimberly Clark, Frito Lay, Hershey, Pepsi Cola Hawaii, Hawaii Food Service Alliance, ConAgra Foods, Banana Boat Edgewell, Procter and Gamble and Kellogg's are teaming up to support Hawai'i Island schools by donating $100,000 for school improvements and learning materials.

Simply shop at KTA Super Stores starting Wednesday, July 31, 2019 until Tuesday, September 10, 2019. Purchase participating products marked with the Kokua i Na Kula lightbulb and donate your points at the checkout. It's that easy! 
Students can also earn additional points and a chance to win a KTA Gift Card in our Social Media Student Contest.
How it works: 
Parental Permission is Required before posting.
Use the Snapchat KTA Super Stores Kokua i Na Kula lens when you are in or around a KTA Super Stores on your photo – take a selfie, picture of your artwork or better yet a picture of one of our sponsor's products!
Upload your picture to Facebook or Instagram
Include #KTAKOKUA in your post to be eligible to win!
Parental Release forms will be provided before winner's entries are re-posted or used by KTA Super Stores.
Students can Post & Play until August 31, 2019. Winners will be selected at random and contacted before September 10, 2019.
 Click below to view the 2019 final results!