KTA Super Stores Teams Up with Pacific Biodiesel & Maiden Hawai'i Naturals to
Recycle Household Used Cooking Oil and Support The Food Basket this Holiday Season
November 15 is America Recycles Day, and this year KTA Super Stores is challenging the community to "Choose Hawai'i" in every way, from buying local ingredients for island sustainability, to properly disposing of waste - like used cooking oil, to ensure is doesn't end up in the landfill, or the ocean, or clogging drains.
This holiday season, CHOOSE HAWAI'I and RECYCLE your used cooking oil!
Choose Hawaii Giveaway - Nov. 15 to 25, 2021
Enter to win 1 of 5 prizes worth over $100!
Help us spread the word and enter our giveaway on Instagram & Facebook
HOW TO ENTER:
Follow all 3 Instagram or Facebook accounts: @ktasuperstores @MaidenHawai'iNaturals @PacificBiodiesel
Like the giveaway post that will be shared on Nov. 15 on @ktasuperstores Instagram and Facebook.
Tag a friend in a comment on the giveaway post. 1 comment = 1 entry. Unlimited entries!
5 winners will be randomly selected from eligible entries.
Winners will be announced 11/26 and must be able to pick up their prize from a KTA location on Hawai'i Island.
Choose Hawai'i Giveaway Official Rules
NO PURCHASE NECESSARY TO ENTER OR WIN.
1. Eligibility: KTA's Choose Hawai'i Giveaway is open only to legal residents of Hawai'i Island who enter on a public
instagram or facebook account. Minors must have consent from parent(s) or guardian(s) for participation. The
Promotion is subject to all applicable federal, state, and local laws and regulations and is void where prohibited by law.
KTA Super Stores associates and their immediate family members are ineligible for the promotion.
2. Agreement to Official Rules: By participating in the giveaway, entrants fully and unconditionally agree to and accept
these Official Rules and the decisions of the Sponsor and Administrator, which are final and binding in all matters
related to the giveaway.
3. Contest Period: The contest begins at 12 a.m. Hawai'i-Aleutian Standard Time ("HAST"), November 15 and ends at 11:59
p.m. HAST, November 25, 2021 (the "Giveaway Period"). Administrator's computer is the official time-keeping device
for this giveaway.
4. How to Enter: Find our giveaway post on KTA's instagram or facebook account. Follow all 3 accounts: @ktasuperstores
@MaidenHawai'iNaturals @PacificBiodiesel. Like the giveaway post. Tag a friend in a comment on the post. 1 comment
= 1 entry. Unlimited entries!
Entries close at 11:59PM on Thursday, November 24, 2021. Entries submitted on instagram & facebook must be from
public accounts to be eligible. Open to Hawai'i Island residents only.
5. Giveaway Prize Selection and Verification of Potential Winners: Potential winners must comply with all terms and
conditions of these Official Rules.
6. Prizes: Five (5) Kits which includes...(A $50 KTA Gift Card, KTA Thermal Bag, KTA Mascot Apron Pacific Biodiesel lunch
tote, reusable drink bottle, spork, metal straw, cork coaster and Maiden Hawai'i Naturals 12 oz. culinary oil set.)
Winners will be announced 11/26 and must be able to pick up their prize from a KTA location on Hawai'i Island.
7. Publicity: Except where prohibited, participation in the giveaway constitutes entrant's consent for Sponsor and its
designees to use entrant's name, likeness, city and state of residence for promotional purposes in any media without
further consideration.
8. General Conditions: In the event that the operation, security, or administration of the giveaway is impaired in any way
for any reason, including, but, not limited to, fraud, technical failures, regularly scheduled maintenance, virus or other
technical problem, the Sponsor may, in its sole discretion, either: (a) suspend the giveaway to address the impairment,
then resume the giveaway in a manner that best conforms to the spirit of these Official Rules; or (b) cancel the
giveaway and award the prizes in a random drawing from among all eligible entries received up to the time of
impairment; or (c) adjust the contest rules in a manner that best conforms to the spirit of these Official Rules; The
company reserves the right in its sole discretion to disqualify any individual it finds to be tampering with the entry
process or the operation of the giveaway or to be acting in violation of the Official Rules of this or any other promotion,
or in an unsportsmanlike or disruptive manner. We reserve the right to disqualify inappropriate costumes and remove
inappropriate props. Any attempt by any person to undermine the legitimate operation of the giveaway may be a
violation of criminal and civil law, and, should such an attempt be made, the company reserves the right to seek
damages from any such person to the fullest extent permitted by law. The Sponsor's failure to enforce any term of
these Official Rules shall not constitute a waiver of that provision.
9. Release and Limitations of Liability: Except where prohibited, by participating in the giveaway, entrants agree to
release and hold harmless KTA Super Stores and their respective parents, subsidiaries, affiliates, promotional partners,
prize partners, agents and agencies, and the officers, directors and employees of each of them (the "Released Parties")
from and against any claim or cause of action arising out of participation in the giveaway or receipt or use of any prize,
including, but not limited to: (a) unauthorized human intervention in the giveaway; (b) technical errors related to
computers, servers, providers, printers or telephone or network lines; (c) printing errors; (d) errors in the administration 
of the giveaway or the processing of registrations and game pieces; (e) late, lost, or undeliverable mail; or (f) injury or
damage to persons or property which may be caused, directly or indirectly, in whole or in part, from entrant's
participation in the giveaway or receipt of any prize. Entrant further agrees that in any cause of action, the Released
Parties' liability will be limited to the cost of entering and participating in the giveaway and in no event shall the
Released Parties be liable for attorney's fees. Entrant waives the right to claim any damages whatsoever, including, but
not limited to, punitive, consequential, direct, or indirect damages. If for any reason an entrant's entry is confirmed to
have been erroneously deleted, lost, or otherwise destroyed or corrupted, entrant's sole remedy is duplicate package.
If it is not possible to award another entry/play for any reason, Sponsor, in its sole discretion, may elect to hold a
random drawing from among all eligible entries received up to the date of discontinuance for any prize offered herein.
No more than the stated number of prizes will be awarded. In the event that production, technical, seeding,
programming or any other reasons cause more than the stated number of prizes as set forth herein to be available and/
or claimed, Sponsor reserves the right to award only the stated number of prizes by a random drawing among all
legitimate, un-awarded, eligible prize claims.
10. Disputes: Entrant agrees that: (a) any and all disputes, claims and causes of action arising out of or connected with this
giveaway or any prizes awarded shall be resolved individually, without resort to any form of class action, and
exclusively by the United States District Court for Oahu (First Circuit) of Hawai'i or the appropriate Hawai'i State Court
located in Honolulu County, Hawai'i; and (b) any and all claims, judgments and awards shall be limited to actual out-of-
pocket costs incurred, including costs associated with entering any Promotion, but in no event attorneys' fees. All
issues and questions concerning the construction, validity, interpretation and enforceability of these Official Rules, or
the rights and obligations of the entrant and Sponsor in connection with the Promotion, shall be governed by, and
construed in accordance with, the laws of the State of Hawai'i, without giving effect to any choice of law or conflict of
law rules (whether of the State of Hawai'i or any other jurisdiction), which would cause the application of the laws of
any jurisdiction other than the State of Hawai'i.
11. Promotion Results: KTA Super Stores will announce the winner by Friday, November 26, 2021.
12. Entrant's Personal Information: Information collected from entrants will be kept confidential to the Administrator, and
will not be shared with any other parties/vendors other than what is included in paragraph.
RECYCLE & GIVE - OIL RECYCLING
November 26 to December 7, 2021
Drop off your used cooking oil at the Pacific Biodiesel refinery to be recycled into 100% renewable fuel for Hawai'i and to help families in need this holiday season.
For every 1 gallon of used cooking oil donated, Pacific Biodiesel will make a $1 donation to The Food Basket.
Learn more at biodiesel.com
---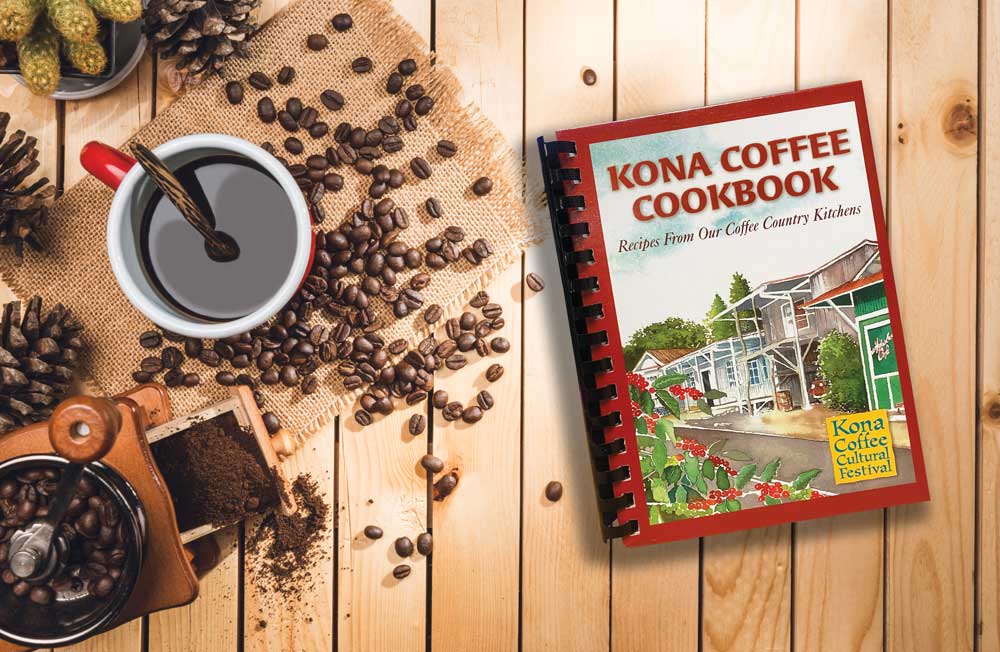 Support local Kona Coffee Farmers
& the 50th Annual Kona Coffee Cultural Festival
October 13, 2021 to January 4, 2022 
Purchase Two 100% Kona Coffee Products
to receive $5 off the Kona Coffee Festival Cookbook!
Choose from a variety of 100% Kona Coffee:
(Ground or Whole Bean 2.1 oz or larger)
Bio-Eco
Farmer's Choice
Fike Farms
Green Forest
Hawaii Select
Hawaiian Cafe
Holualoa
Hula Girl
(Includes Instant .7 oz.)
Island Sun
Kona Gold Rum
Kona Grove
Lion
Makalei
Mongoose Mountain
Mountain Thunder
Paradise Hawn. Style
(Includes Instant 1.5 oz.)
Purely Kona
Royal Kona
Volcano Coffee
Wailele
Coupons are good until 1/31/2022. There is a limit of one (1) coupon per transaction. While supplies last!
The Kona Coffee Cultural Festival Cookbook is available for purchase at any KTA Super Stores location.
---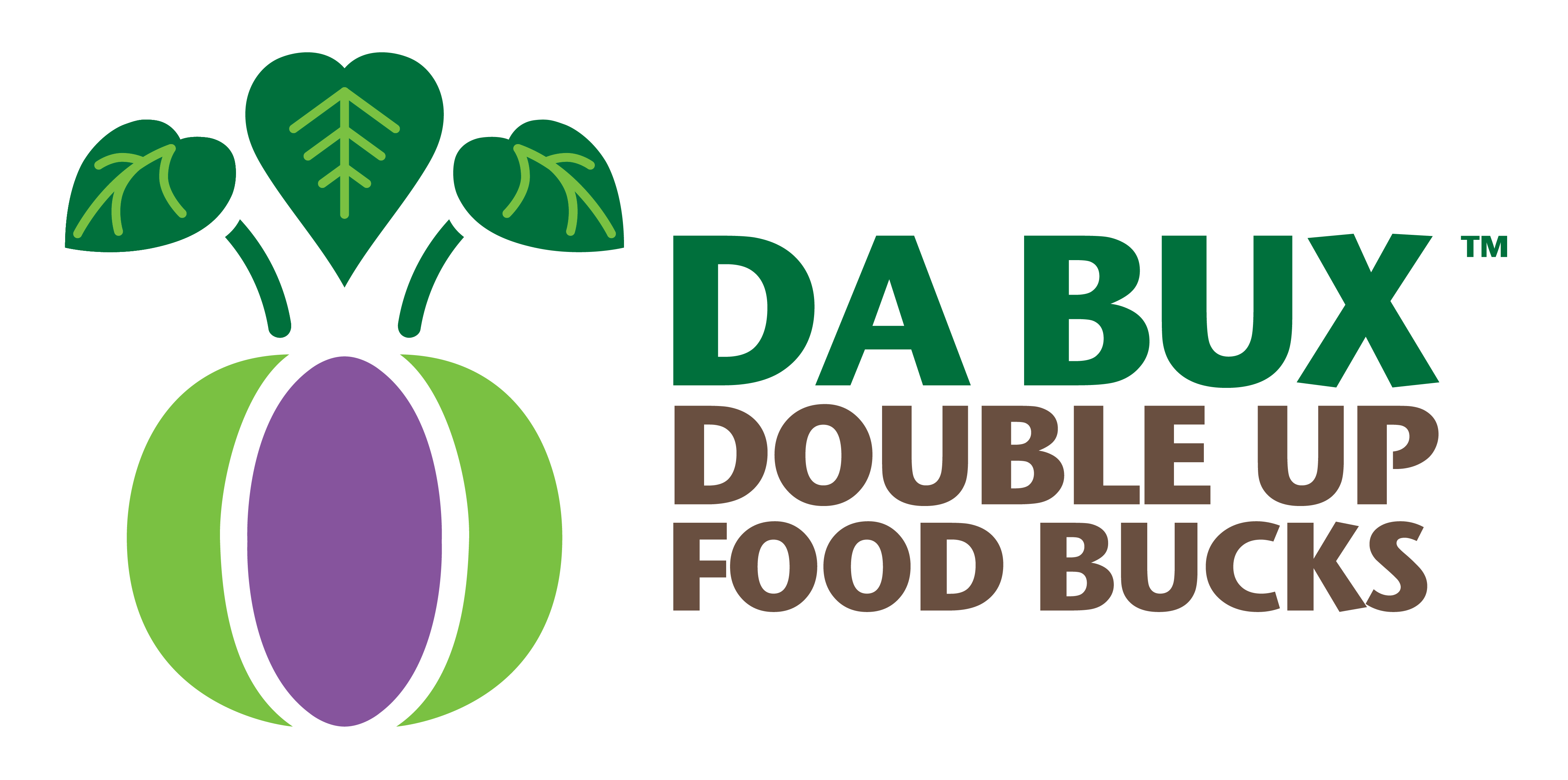 Double Up Your Food Bucks
Receive 50% off qualifying Hawai'i grown fruits and veggies on Snap-EBT purchases with DA BUX!
DA BUX is a program (in partnership with the Hawaii Island Food Basket) designed to encourage SNAP users to shop local by promoting the purchase of Hawaii grown fresh fruits and
vegetables.
WHO: SNAP (EBT Food Stamp) Users
WHAT: Get 50% off on qualifying Hawai'i grown fruit and veggie purchases with DA BUX.
WHERE: Any KTA Super Stores location island wide.
WHEN: Until December 27, 2022
HOW: Sign up for a DA BUX Access Card at any KTA Super Stores/Express Customer Service Center.
Step 1: Shop for qualifying DA BUX fruits and vegetables. Look for the DA BUX logo on the price signage.
Step 2: At checkout, give your DA BUX Access Card and SNAP-EBT card to the cashier BEFORE swiping your SNAP-EBT card.
Step 3: After ringing up all your items, the cashier scans your DA BUX Access Card to take 50% off qualifying purchases. (maximum of one discount per transaction, per day; the discount can only be applied at the time of your qualifying purchase)
Step 4: Swipe your SNAP-EBT card to pay for your purchases. (a minimum of 1 cent of SNAP-EBT must be used to receive discount, any other payment methods can be used to pay for the remaining balance)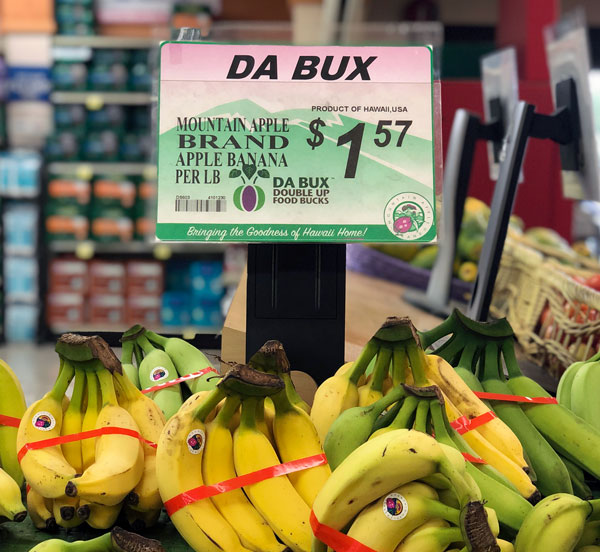 Participating Products
Avocado
Apple Banana
Mountain Apple Brand Apple Banana
Organic Apple Banana
Chinese Cabbage
Head Cabbage
Mustard Cabbage
Ewa Sweet Fresh Corn
Cucumber
Japanese Cucumber
Keiki Cukes Mini Cucumbers
Hawai'i 'Ulu Coop Ulu
Lone Palm Farms Alfalfa Sprouts
Lone Palm Farms Alfalfa-Garlic Sprouts
Lone Palm Farms Alfalfa-Onion Sprouts
Lone Palm Farms Broccoli Sprouts
Lone Palm Farms Clover Sprouts
Lone Palm Farms Daikon Sprouts
Lone Palm Farms Mixed Sprouts
Lone Palm Farms Mung Beans
Lone Palm Farms Sunflower Sprouts
Lone Palm Farms Taro Leaves
Lone Palm Farms Snow Pea Sprouts
Butter Lettuce
Prime Kine Butter Lettuce
Prime Kine Moana Lettuce
Red Leaf Lettuce
Organic Baby Romaine Lettuce
Organic Green Leaf Lettuce
Organic Red Leaf Lettuce
Organic Romaine Lettuce
Organic Mango
Mother Natures Organic Choy Sum
Mother Natures Organic Miracle Salad
Mother Natures Organic Arugula
Mother Natures Organic Chard
Mother Natures Organic Kale
Mother Natures Organic Mustard Cabbage
Mother Natures Organic Parsley
Mother Natures Organic Cilantro
Hamakua Ali'i Oyster Mushroom
Kapoho Solo Papaya
Rainbow Papaya
Red Flesh Papaya
Diamond Star Sunrise Papaya
Dole Pineapple
Maui Gold Pineapple
White Pineapple
Mokuwai Piko Poi
Mokuwai Piko Poi Pops
Mountain Apple Brand Frozen Poi 
Waipi'o Valley Taro Products Poi
Sweet Potato
Yellow Flesh Sweet Potato
Taro Brand Bean Sprouts
Taro Brand Chop Suey Mix
Taro Brand Clover Sprouts
Taro Brand Radish Sprouts
Taro Brand Soybean Sprouts
Taro Leaf
Hilo Products Taro Leaf
Kamuela Tomato
Kawamata Tomato
Kawamata Cherry Tomato
Red Watermelon
Seedless Red Watermelon
Thai Watermelon
Participating items are subject to change without notice based on product availability. See a KTA Super Stores produce department for details.
Questions? Please call the DA BUX hotline at (808)437-3044. DA BUX discounts are available daily until December 27, 2022.