A new way to earn Free* products has arrived! Save your receipt points to earn your pick in our Holiday Save-A-Tape!
Save 700 register points dated Wednesday, November 27 to Tuesday, December 29, 2020 to
earn FREE* products for your choice of the following items at *NO ADDITIONAL COST!
Mountain Apple Brand Kalua Pork (3 ct. – 1 lb.)
Sugardale Half Ham (10 lb. average, frozen)
1916 Cooked Shrimp (2 lbs. – 31 to 40 ct., frozen)
1916 EZ Peel Shrimp (2 lbs. – 21 to 25 ct., frozen)
Hormel Goteborg Whole (3 lb. average)
Marca El Rey Chorizo (3 lbs.)
Lobster Sensation (2 lbs.)
Half Shell Mussels (2 lbs., frozen)
Karaage Squid (2.2 lbs., frozen)
Breaded Oysters (2 lbs., frozen)
or...
Save 400 register receipt points and get your choice of the above for $8!
Earn 5 bonus points by purchasing any of the following items
(NOTE: not all items are available at all locations).
KTA Fruit Baskets
Microgreens Deluxe Kits
Big Island Candies Peach Pineapple Pie 37 oz.
Carvel Ice Cream Cake Oreo 46 oz.
Bakery Ice Cream Cake Log 48 oz.
Jon Donaire Ice Cream Cake Variety Sampler 32 oz.
Jon Donaire Ice Cream Cake Fudge Brownie 36 oz.
Jon Donaire Ice Cream Cake Strawberry & Cream 36 oz.
Deli BBQ/Katsu/Chicken Platters
Hamachi Tataki Loins 1 lb.
Deli Fruit & Cheese Platters
Deli Cone Sushi or Maki Sushi Platters
Deli Cold Cuts & Cheese Platters
Fruit or Vegetable Platters
KTA Bakery Decorated Cake - 1⁄4 or larger
Sugardale Semi Boneless Ham 1 lb.
Quick & 'Ono Premium Gift Boxes
Norbest Turley 10 to 21.99 lb. avg.
Miso Butterfish Fillet Gift Pack 1.5 lbs.
The last day to turn in points and receive a SAVE-A-TAPE certificate is January 12, 2021.
All SAVE-A-TAPE certificates must be redeemed by February 9, 2021.
While supplies last.
KTA Super Stores/Express reserves the right to reject any receipts that are questionable as to how they were acquired. However, we will accept "pooled" receipts from eleemosynary (charitable, non-profit and church) organizations only.
Check the Save-A-Tape total in the lower portion of your register receipts and turn them in at the Customer Service Center with the special accumulator.
LIMIT ONE FREE PER QUALIFYING ACCUMULATOR TOTAL. Subject to availability. Sorry, no substitutions. While supplies last!
Certificates not redeemable for exchange, cash or refund.
---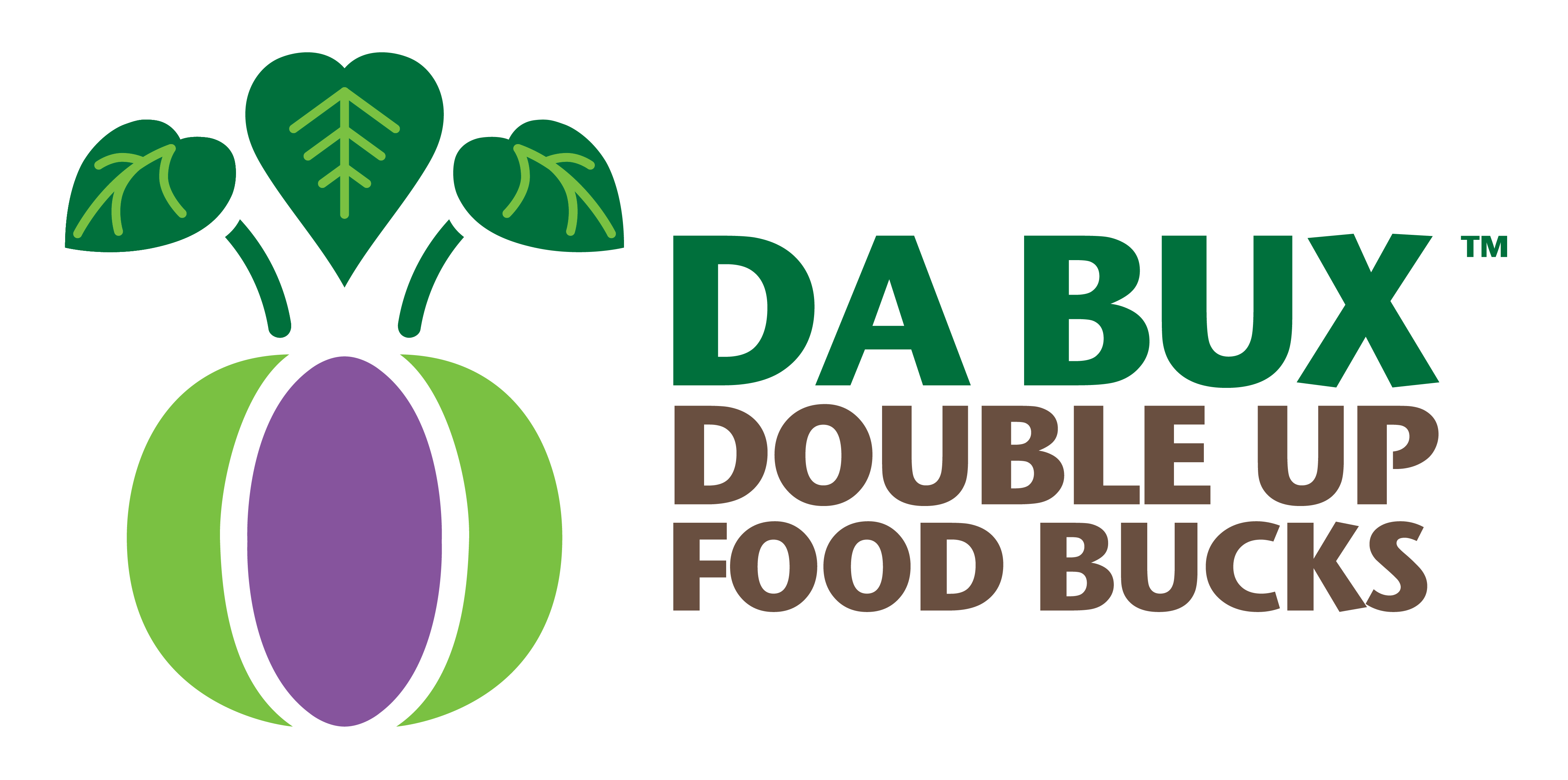 Double Up Your Food Bucks
Receive 50% off qualifying Hawai'i grown fruits and veggies on Snap-EBT purchases with DA BUX!
DA BUX is a program (in partnership with the Hawaii Island Food Basket) designed to encourage SNAP users to shop local by promoting the purchase of Hawaii grown fresh fruits and
vegetables.
WHO: SNAP (EBT Food Stamp) Users
WHAT: Get 50% off (up to $20) on qualifying Hawai'i grown fruit and veggie purchases with DA BUX.
WHERE: Any KTA Super Stores location island wide.
WHEN: Until June, 29, 2021
HOW: Sign up for a DA BUX Access Card at any KTA Super Stores/Express Customer Service Center.
Step 1: Shop for qualifying DA BUX fruits and vegetables. Look for the DA BUX logo on the price signage.
Step 2: At checkout, give your DA BUX Access Card and SNAP-EBT card to the cashier BEFORE swiping your SNAP-EBT card.
Step 3: After ringing up all your items, the cashier scans your DA BUX Access Card to take 50% off qualifying purchases. (maximum $20 discount per transaction, per day; the discount can only be applied at the time of your qualifying purchase)
Step 4: Swipe your SNAP-EBT card to pay for your purchases. (a minimum of 1 cent of SNAP-EBT must be used to receive discount, any other payment methods can be used to pay for the remaining balance)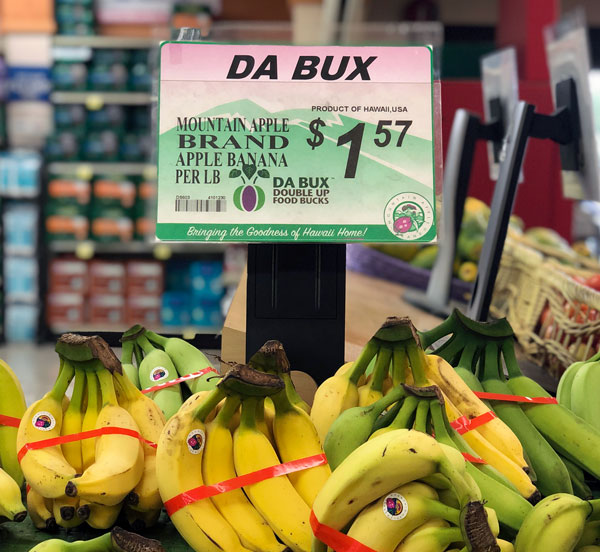 Participating Products
Avocado
Apple Banana
Mountain Apple Brand Apple Banana
Organic Apple Banana
Chinese Cabbage
Daikon
Head Cabbage
Mustard Cabbage
Ewa Sweet Fresh Corn
Cucumber
Japanese Cucumber
Keiki Cukes Mini Cucumbers
Green Bell Peppers
Mountain Apple Brand Frozen Poi
Hawai'i 'Ulu Coop Ulu
Lone Palm Farms Alfalfa Sprouts
Lone Palm Farms Alfalfa-Garlic Sprouts
Lone Palm Farms Alfalfa-Onion Sprouts
Lone Palm Farms Broccoli Sprouts
Lone Palm Farms Clover Sprouts
Lone Palm Farms Daikon Sprouts
Lone Palm Farms Mixed Sprouts
Lone Palm Farms Mung Beans
Lone Palm Farms Sunflower Sprouts
Lone Palm Farms Taro Leaves
Lone Palm Farms Snow Pea Sprouts
Butter Lettuce
Head Lettuce
Prime Kine Butter Lettuce
Prime Kine Moana Lettuce
Red Leaf Lettuce
Organic Baby Romaine Lettuce
Organic Mango
Mother Natures Organic Choy Sum
Mother Natures Organic Miracle Salad
Mother Natures Organic Arugula
Mother Natures Organic Chard
Mother Natures Organic Kale
Mother Natures Organic Mustard Cabbage
Mother Natures Organic Parsley
Mother Natures Organic Cilantro
Hamakua Ali'i Oyster Mushroom
Kapoho Solo Papaya
Rainbow Papaya
Red Flesh Papaya
Diamond Star Sunrise Papaya
Dole Pineapple
Maui Gold Pineapple
White Pineapple
Mokuwai Piko Poi
Mokuwai Piko Poi Pops
Mountain Apple Brand Frozen Poi 
Waipi'o Valley Taro Products Poi
Sweet Potato
Yellow Flesh Sweet Potato
Taro Brand Bean Sprouts
Taro Brand Clover Sprouts
Taro Brand Radish Sprouts
Taro Brand Soybean Sprouts
Taro Leaf
Hilo Products Taro Leaf
Kamuela Tomato
Kawamata Tomato
Kawamata Cherry Tomato
Participating items are subject to change without notice based on product availability. See a KTA Super Stores produce department for details.
Questions? Please call The Food Basket at 808-933-6030. DA BUX discounts are available daily until June 29, 2021.