---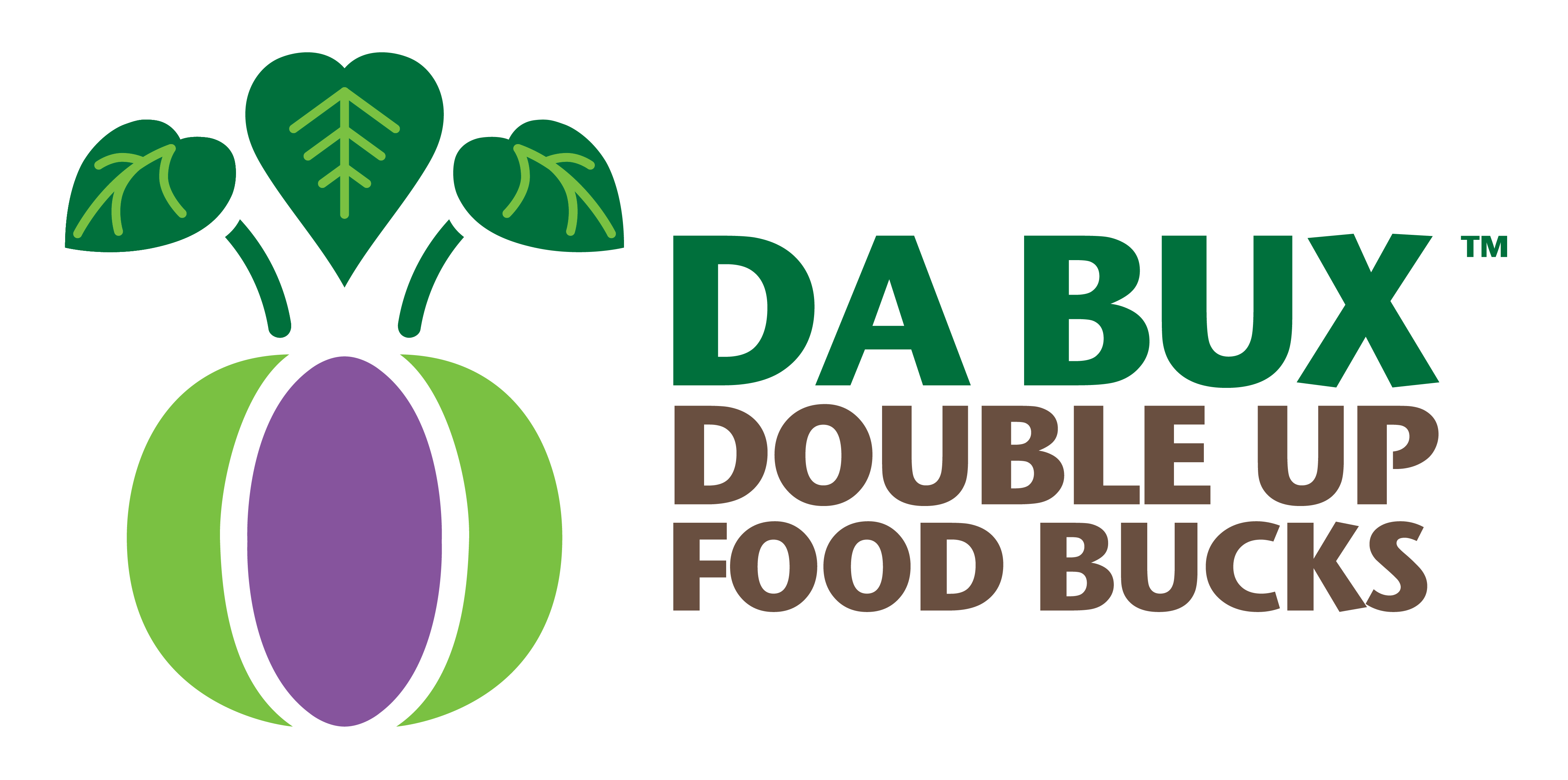 Double Up Your Food Bucks
Receive 50% off qualifying Hawai'i grown fruits and veggies on Snap-EBT purchases with DA BUX!
DA BUX is a program (in partnership with the Hawaii Island Food Basket) designed to encourage SNAP users to shop local by promoting the purchase of Hawaii grown fresh fruits and vegetables.
WHO: SNAP (EBT Food Stamp) Users
WHAT: Get 50% off on qualifying Hawai'i grown fruit and veggie purchases with DA BUX.
WHERE: Any KTA Super Stores location island wide.
WHEN: Until December 26, 2023
HOW: Sign up for a DA BUX Access Card at any KTA Super Stores/Express Customer Service Center.
Step 1: Shop for qualifying DA BUX fruits and vegetables. Look for the DA BUX logo on the price signage.
Step 2: At checkout, give your DA BUX Access Card and SNAP-EBT card to the cashier BEFORE swiping your SNAP-EBT card.
Step 3: After ringing up all your items, the cashier scans your DA BUX Access Card to take 50% off qualifying purchases. (maximum of one discount per transaction, per day; the discount can only be applied at the time of your qualifying purchase)
Step 4: Swipe your SNAP-EBT card to pay for your purchases. (a minimum of 1 cent of SNAP-EBT must be used to receive discount, any other payment methods can be used to pay for the remaining balance)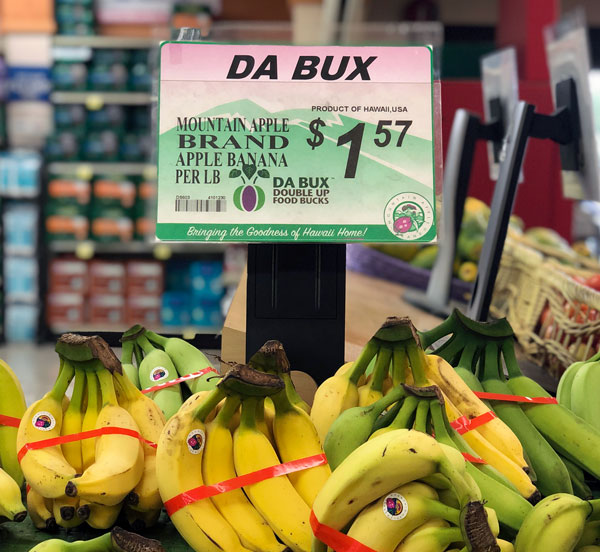 Participating Products
Avocado
Apple Banana
Organic Apple Banana
Organic Broccoli
Chinese Cabbage
Head Cabbage
Mustard Cabbage
Organic Celery
Ewa Sweet Fresh Corn
Cucumber
Japanese Cucumber
Keiki Cukes Mini Cucumbers
Daikon, Long
Hawai'i 'Ulu Coop Kalo, Frozen
Hawai'i 'Ulu Coop Pala'a, Frozen
Hawai'i 'Ulu Coop 'Uala, Frozen
Hawai'i 'Ulu Coop 'Ulu, Frozen
Lone Palm Farms Alfalfa Sprouts
Lone Palm Farms Alfalfa-Garlic Sprouts
Lone Palm Farms Alfalfa-Onion Sprouts
Lone Palm Farms Broccoli Sprouts
Lone Palm Farms Clover Sprouts
Lone Palm Farms Daikon Sprouts
Lone Palm Farms Mixed Sprouts
Lone Palm Farms Mung Beans
Lone Palm Farms Sunflower Sprouts
Lone Palm Farms Taro Leaves
Lone Palm Farms Snow Pea Sprouts
Ono Ono Luau Leaf, Frozen
Mountain Apple Brand Cooked Taro Leaf, Frozen
Butter Lettuce
Green Leaf Lettuce
Hydroponic Leaf Lettuce
Hydroponic Romaine Lettuce
Prime Kine Butter Lettuce
Prime Kine Moana Lettuce
Red Leaf Lettuce
Organic Baby Romaine Lettuce
Organic Green Leaf Lettuce
Organic Red Leaf Lettuce
Organic Romaine Lettuce
Oton Beans
Mother Natures Organic Choy Sum
Mother Natures Organic Miracle Salad
Mother Natures Organic Arugula
Mother Natures Organic Chard
Mother Natures Organic Kale
Mother Natures Organic Mustard Cabbage
Mother Natures Organic Parsley
Mother Natures Organic Cilantro
Hamakua Ali'i Oyster Mushroom
Pak Choy
Kapoho Solo Papaya
Rainbow Papaya
Red Flesh Papaya
Diamond Star Sunrise Papaya
Green Bell Peppers
Piko Provisions Baby Food
Dole Pineapple
Maui Gold Pineapple
White Pineapple
Mokuwai Piko Poi
Mokuwai Piko Poi Pops
Mountain Apple Brand Frozen Poi 
Waipi'o Valley Taro Products Poi
Sweet Potato
Orange Flesh Sweet Potato
Taro Brand Poi
Taro Brand Bean Sprouts
Taro Brand Chop Suey Mix
Taro Brand Clover Sprouts
Taro Brand Radish Sprouts
Taro Brand Soybean Sprouts
Hilo Products Taro Leaf
Kamuela Tomato
Kawamata Tomato
Kawamata Cherry Tomato
Thai Watermelon
Participating items are subject to change without notice based on product availability. See a KTA Super Stores produce department for details.
Questions? Please call the DA BUX hotline at (808)437-3044. DA BUX discounts are available daily until December 26, 2023.