Technology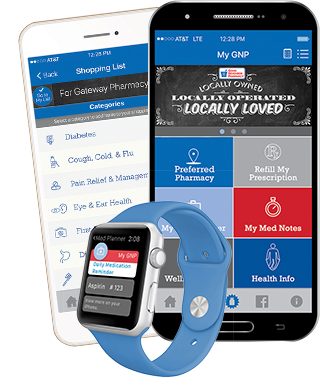 Manage prescriptions on the go!
Version 5.0 is now available for iOS and Android devices. Create your pharmacy shopping list, customize alerts so you never miss a dose and now, refill prescriptions on your Apple Watch.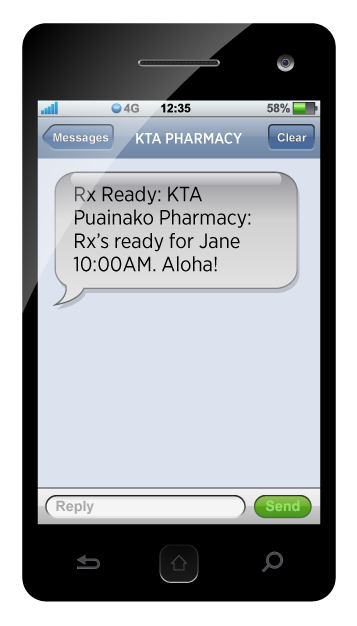 We have the latest in Technology and tools to better serve you. Ask our pharmacy staff about:
Telephone IVR system for refills and barcode verification
E-prescriptions
Auto-Refills
Text Notifications — KTA Pharmacies can now text you when your prescriptions are ready.
E-mail Notificiations
Free "Pocket Profiles" (list of all of a patient's medications, directions, and doctors) available
Language Translation available for print material
Medication synchronization — Pick up all of your medication in one trip
---
Products & Services
KTA Pharmacy at Puainako is  now offering Curbside Delivery
Monday, Wednesday & Friday - 12pm to 2pm
How it works:
Call the KTA Puainako Pharmacy to fill your prescription.
Request for curbside pick up.
Drive to KTA during the KTA Pharmacy Curbside Delivery hours.
Look for the Curbside Pick-Up Stalls, park and wait in your car.
Call us on the number on the Stall Sign to let us know you've arrived. We'll be right out with your prescription!
Curbside Pick-Up is for prescriptions only. Debit or Credit Card Payments only.
Please contact your KTA Puainako Pharmacy for more details.
Scroll down for Pharmacy contact information.
KTA Keauhou Pharmacy is offering Prescription Delivery by Mail.
Please contact KTA Keauhou Pharmacy at 808-322-2511 to ask for prescription delivery.
Some restrictions and fees may apply.
In addition to our general Pharmacy service, the following products and services are also available:
One-on One Diabetes Education & Glucometer teaching
Medication Therapy Management program (medication review)
Flavor your prescription liquids and suspensions (i.e. antibiotics) for a $3.00 charge
We can special order Carex® and durable medical equipment (such as walkers, wheelchairs, canes, bed pans, etc.)
We can also special order Health and Beauty items for you
Travel Medicine Consultation (before traveling abroad, meet with a pharmacist to receive information on recommended immunizations and medications to help you stay healthy on your trip)
Spectra Breast Pump
---