Ho'ohana Hou (To Use Again) – 100% Reusable Bags
Since the 2014 Hawai'i County plastic bag reduction ordinance*, we ask ourselves, what small steps can each of us take to better our environment? It's simple: Ho'ohana Hou, to use again.
We can start by eliminating our dependence on disposable (single-use) grocery bags. Paper and plastic grocery bags are equally harmful to the 'aina; resulting in air pollution, deforestation, harm to our marine life and excessive litter. Each one of us can make a huge difference. In fact, over the course of our lifetimes, the use of reusable bags by just one person would eliminate 22,000 plastic bags.
Since January 17, 2014, all of our stores no longer offer single-use plastic bags at the checkout. Customers are charged a 5¢ fee (plus tax) for every large paper bag used.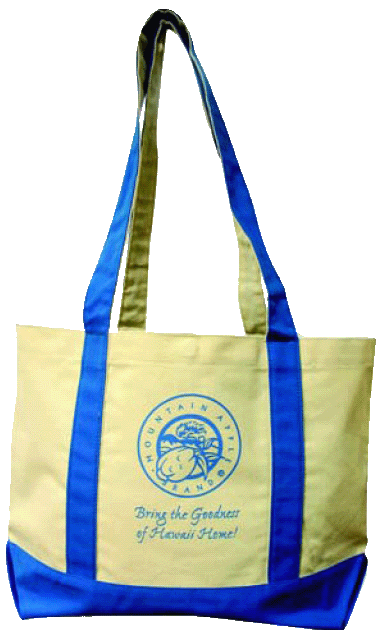 The small steps we take today to preserve our 'aina will make a huge difference for generations to come. It's important that we each do our part and make the transition to reusable bags. It's the right thing to do. Please kokua by keeping your reusable bags at the top of your grocery list, in your trunk, and with you at the checkout line.
For more information on the single-use bag fee, see our Frequently Asked Questions (FAQ).
Our Other Environmental Initiatives
Established KTA's Reuse Grocery Bag Incentive Program many years ago to encourage the use of reusable bags by our customers.
Created recycling centers at our stores for customers to bring in their used plastic bags for recycling.
Established an internal recycling program at our stores. We currently recycle cardboard boxes, wooden pallets, cooking oils, paper, case wraps, pallet wraps and merchandise bale wraps.
Learn about our efforts to reduce our dependency on fossil fuels through our renewable energy projects at our Kailua-Kona, Keauhou, Waimea, and Waikoloa Village locations.
*For more information on the County of Hawai'i Plastic Bag Reduction Ordinance, please visit the Department of Environmental Management's website at www.hawaiizerowaste.org.