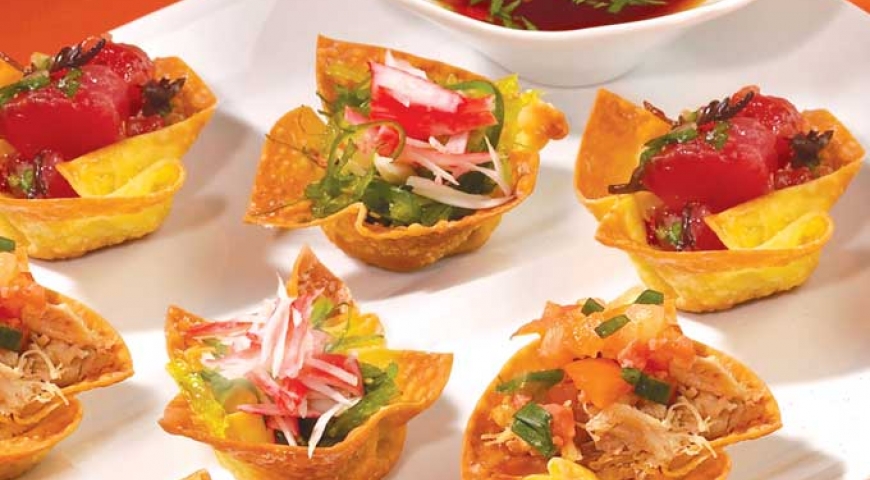 Description
This versatile appetizer is so easy to prepare and has endless possibilities!  What could be a better crowd pleaser than crunchy won ton paired with local favorites like crab, poke', kalua turkey and lomi-lomi salmon? A quick visit to your deli counter will provide you with the foundation for a lovely party platter that will be a crowd pleaser.
1 pkg
square won ton wrappers
1/2 lb
of your favorite poke'
1 pkg
imitation crab (or fresh crab if available) (8 oz. package; chopped)
1/2 cup
seaweed salad (chop and mix with crab)
8 oz
prepared kalua turkey (shredded)
1/2 cup
lite cream cheese
To make the crispy won ton cups, preheat oven to 375° F and lightly spray mini-muffin tins with cooking spray.  Brush each side of the won ton wrappers with canola oil then gently press into the mini-muffin tin sections, making a little cup shape. Bake until crispy, about 8 to 10 minutes.  You can do this step a day ahead, just store in a sealed container.
Make a few of each kind of appetizer and you'll have something for everyone! Fill a cup with poke', another with the crab and seafood salad mixture, top shredded kalua turkey with a small dollop of lomi-lomi salmon, and top cream cheese with a rosette of smoked salmon.  Serve immediately.
Recipe brought to you by:
Find more Quick & 'Ono bites under these categories:
Source: