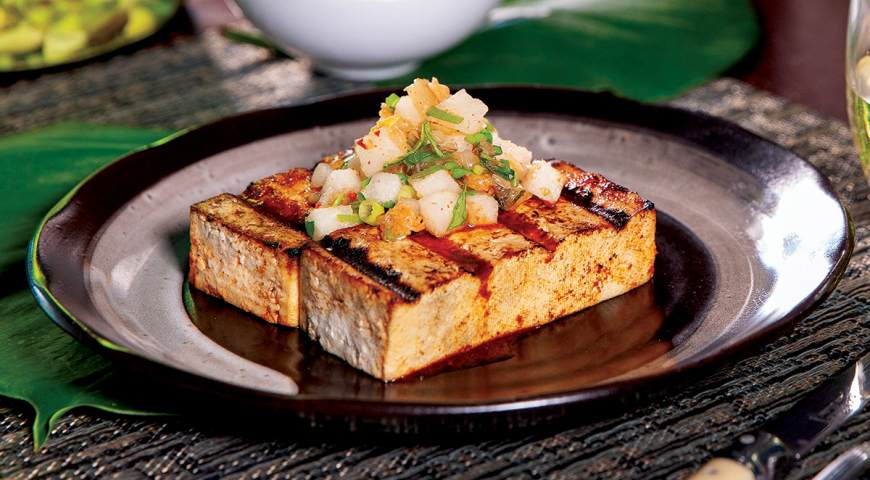 Description
If there's any leftovers, both the tofu and relish make great tacos.
48 oz
firm tofu (drained )
3 Tbsp
Kochujang (Korean pepper paste)
3 tsp
soy sauce (low sodium)
3 Tbsp
toasted sesame oil
1 cup
Asian pear (small dice)
1 cup
kim chi (well drained, small dice)
1/2 cup
green onion (sliced thin)
Prep Time:
Cooking Time:
Total Time:
Instructions
Cut the tofu into 4 equal pieces per package (total 12 pieces). Drain the tofu on paper towels top and bottom to absorb moisture. For the marinade, place the Kochujang, soy sauce, sesame oil, fish sauce, agave or honey, garlic and ginger into a bowl and mix well. 
In a large baking dish add the drained and dried tofu then pour marinade evenly over tofu, turn to coat both sides. Cover with plastic wrap and marinade in the refrigerator for 1 hour.  
For the relish, place the Asian pear, kim chi, lime juice, green onion and cilantro into a bowl and combine together. 
Preheat grill to high heat. Spray each side of the marinated tofu with non-stick cooking spray and grill for 2 minutes on each side achieving nice char marks. Remove tofu from the grill and place on a serving platter. Top tofu with desired amount of relish. Serve with rice and vegetables.
Recipe brought to you by:
Find more Quick & 'Ono bites under these categories: