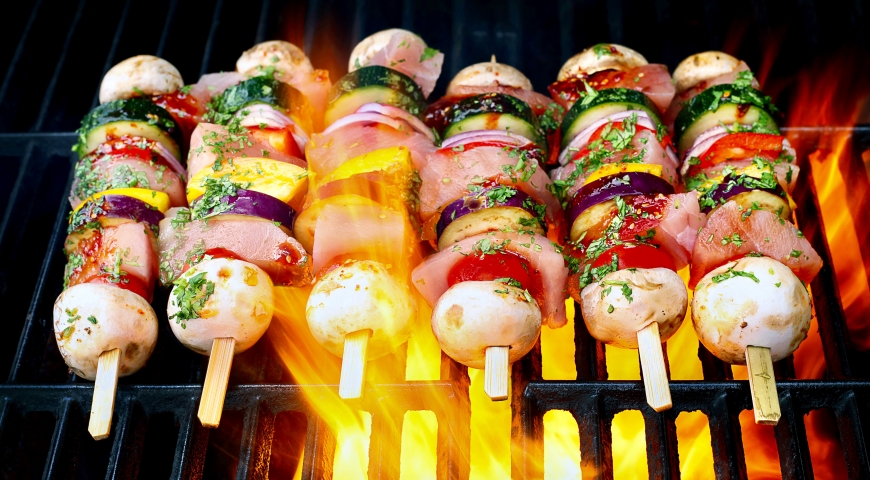 1 pkg
wooden skewers (6")
1 cup
green onion (rough chop)
2 cup
cilantro (rough chop)
8 oz
mushrooms (stems removed)
1
red bell pepper (large, 1" pieces)
1
yellow bell pepper (large, 1" pieces)
1
red onion (1" square pieces)
1
Asian eggplant (1/4" rounds)
2 lb
fish fillets (fresh, firm, 1" pieces)
Prep Time:
Cooking Time:
Total Time:
Instructions
Place the skewers in a bowl of water; let soak for 30 minutes. Combine the garlic, ginger, green onion, cilantro, peanut oil, soy sauce, Sriracha sauce, fish sauce, sesame oil and salt and pepper to taste in a blender and puree until smooth. Set aside. 
Place the mushrooms, red and yellow bell peppers, red onion, eggplant, zucchini, tomatoes and fish into a large bowl or pan. Pour the marinade over the veggies and fish and gently mix together. Cover and refrigerate for 20 to 30 minutes to marinate.
Preheat a grill or grill pan to high. Remove the wooden skewers from the water, then randomly thread them with fish and vegetables. Spray the grill with non-stick cooking spray and grill the skewers for 4 to 5 minutes per side, or until done. Enjoy this end-of-summer treat on Labor Day with your favorite sides!
Recipe brought to you by:
Find more Quick & 'Ono bites under these categories: