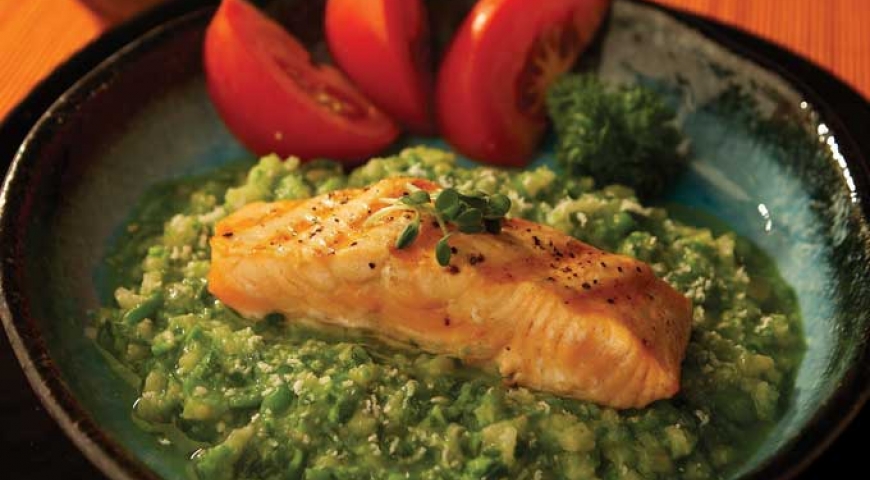 Description
This rich, savory risotto uses peas and spinach to compliment omega-rich salmon.
1/2
onion (minced very fine)
1 cup
frozen peas (defrosted with very hot water, drained and patted dry)
5 cup
chicken or vegetable stock
2 lb
salmon fillet (pin bones and skin removed, cut into serving portions)
fresh ground black pepper
pea shoots or diced tomato for garnish (optional)
To prepare the risotto, preheat your oven to 350° F, and heat 3 tablespoons of the oil in a pan on medium heat. Sauté the onion until translucent. Add the Aborio rice, and keep stirring until all the oil has been absorbed. The rice will make a hushed clicking noise.  Remove from the heat. Add peas, spinach and stock in a blender and blend until smooth. Transfer the rice mixture to a medium sized ovenproof baking dish and stir in the stock mixture. Bake for about 45 minutes, stirring the risotto every 15 minutes. Add extra water if the stock evaporates too soon (before the rice is done cooking).
Prepare the salmon 15 minutes before the risotto is ready. Heat 1 tablespoon of oil in a pan, and season the salmon with the garlic salt and pepper. Sear the salmon on each side until browned and crispy. Serve the risotto sprinkled with parmesan cheese, and top with salmon. Top each salmon fillet with pea sprouts or diced tomato.
Recipe brought to you by:
Find more Quick & 'Ono bites under these categories:
Source: