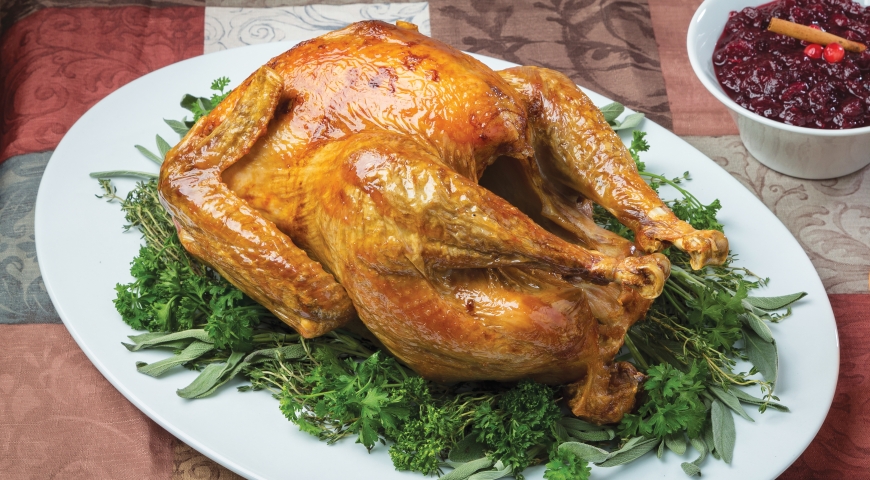 20 lb
turkey (fresh or thawed)
5 tsp
cracked black pepper
Prep Time:
Cooking Time:
Total Time:
Instructions
Unwrap the turkey and remove the bag of giblets from the interior (refrigerate if using them later) and rinse the turkey under cool water. Place the turkey into a very large pot or container. 
In a large container or pitcher, combine the water, salt, onion powder, garlic powder, bay leaves and black pepper to create the brine. Pour the brine over the turkey, making sure it is completely submerged in the liquid. Cover the container and place into the refrigerator to brine the turkey for 2 days. 
Preheat the oven to 300°F. Remove the turkey from the brine and pat dry with a paper towel; discard the brine. 
Place the turkey on a rack in a large roasting pan, breast side up. Cover tightly with heavy-duty foil and place into the oven to roast for 3 hours. 
Remove foil from the turkey and continue to roast for an additional 45 to 60 minutes, basting with drippings every 15 minutes. The turkey is done when the juices are no longer pink and a thermometer reaches 170°F when inserted into the thigh. Remove from the oven, reserving juices to make gravy.Let rest 20 minutes before carving; serve with cranberry & guava relish and all the trimmings!
Recipe brought to you by:
Find more Quick & 'Ono bites under these categories: