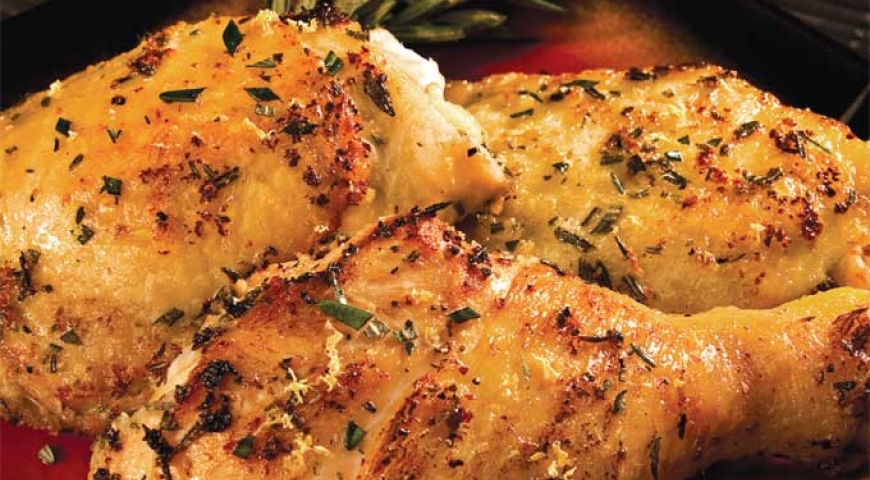 Description
This is a simple recipe that packs a lot of flavor! Serve with some roasted red potatoes and a vegetable side for a wonderful dinner with that special someone, or just a nice family meal. For this recipe, it's crucial that fresh rosemary is used – the dried kind just won't work.
8
chicken pieces (bone-in, skin on; thighs and drumsticks are a good mix)
2 Tbsp
minced garlic (or 4-6 cloves minced, depending on their size)
5
fresh rosemay sprigs (at least 3 tablespoons minced leaves)
2 Tbsp
extra virgin olive oil
zest from one lemon and a big squeeze of fresh lemon juice to finish the chicken
Preheat the oven to 350°F. Rinse and pat dry the chicken pieces, then season lightly with garlic salt and pepper. In a food processor/grinder, combine the minced garlic and rosemary and process until finely chopped. Add the oil and pulse until a chunky paste develops (if you don't have a processor you can use a very sharp knife to finely mince, then use a mortar & pestle to create the paste). Coat the chicken all over with the paste, place in a lightly greased baking dish or pan and let sit for 10 to 15 minutes. Bake uncovered for 35 to 40 minutes, chicken should appear golden brown and still juicy. Arrange on a serving platter, sprinkle with lemon zest and a squeeze of fresh lemon juice (one medium wedge).
Recipe brought to you by:
Find more Quick & 'Ono bites under these categories:
Source: