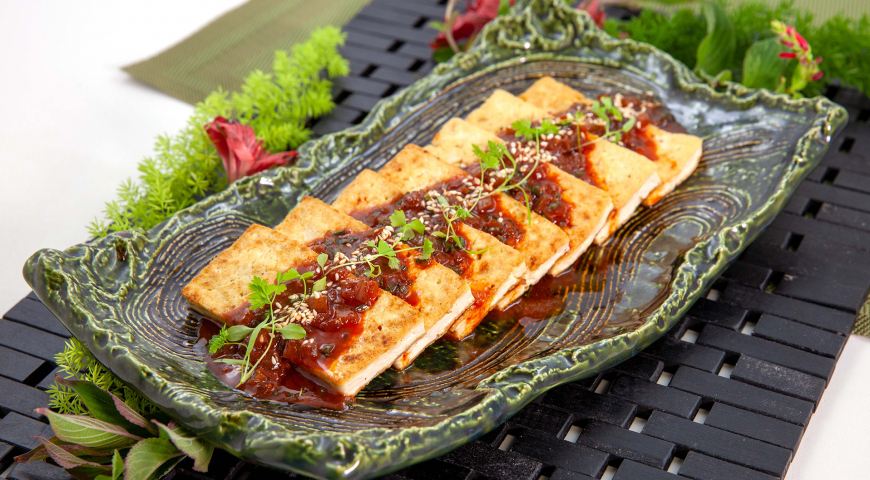 Description
Dubu Jorim is another one of Chef Grant's favorite party dishes. It can be an appetizer or part of a main course. It is also a great dish to platter family style and take to a family or holiday gathering. Tofu is healthy, tasty, relatively cheap and is something hardly anyone is allergic to!
1 pieces
green onion (chopped)
sesame seed oil (to taste)
Prep Time:
Cooking Time:
Total Time:
Instructions
Cut the tofu into ¼" thick bite sized pieces and place on paper towels to dry.      
Heat a medium sized sauté pan on medium heat, add in the oil and sauté the tofu pieces until golden brown on both sides and remove the tofu from the pan.
Add in the onions, garlic, ginger and green onion and sauté for 1 minute. Deglaze with the water or stock (add the liquid to the hot pan usually after browning a protein to help remove the flavorful brown particles from the bottom of the pan) and add in the shoyu, sugar, and the desired amount of chili flakes.
Stir well and add the tofu back to the pan and simmer until the liquid is almost evaporated from the pan, add in sesame seed oil to taste, plate the tofu and garnish with sesame seeds.
Recipe brought to you by:
Find more Quick & 'Ono bites under these categories: