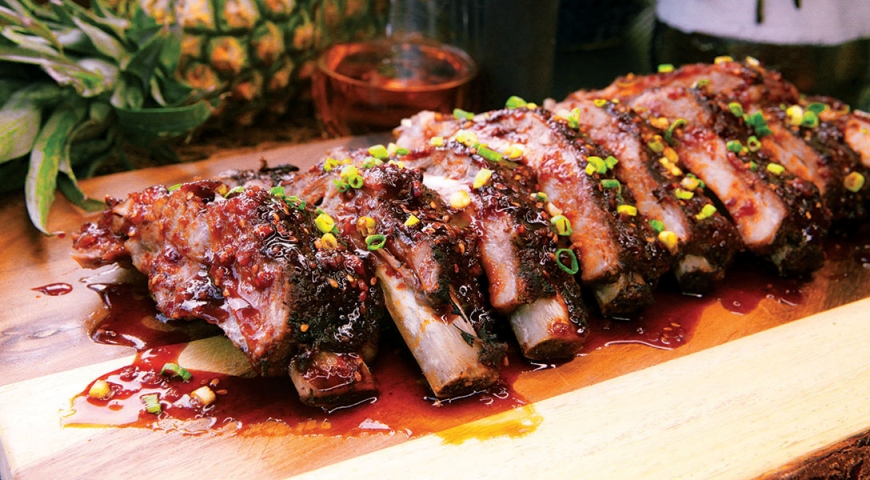 1 Tbsp
Chinese five spice
1
head garlic (cut in half)
1
knob ginger root (sliced thin)
1/2 cup
pineapple juice concentrate
1 Tbsp
cilantro (chopped)
1 Tbsp
Thai basil (chopped)
Prep Time:
Cooking Time:
Total Time:
Instructions
In a large stock pot, add ribs, water, garlic salt, Chinese five spice, 1 tbsp. Sriracha, ½ head of garlic and sliced ginger root. Bring to a boil and simmer until ribs are tender but not falling off the bone, about 45 to 55 minutes. 
While ribs are cooking, make the barbeque sauce by placing the pineapple juice concentrate, hoisin sauce, 1 tsp. Sriracha, minced garlic, minced ginger, cilantro and Thai basil into a bowl and mix together well. 
Preheat your BBQ.  Once the ribs are tender, remove them from the cooking liquid and pat dry with paper towels. Brush both sides of the ribs with a layer of barbeque sauce. 
Grill ribs for about 10 minutes or until nicely caramelized on each side, turning occasionally and brushing ribs generously with barbecue sauce. Serve ribs as whole racks, or cut individually and pile high on a platter to serve family-style or as a tasty pupu.
Recipe brought to you by:
Find more Quick & 'Ono bites under these categories: