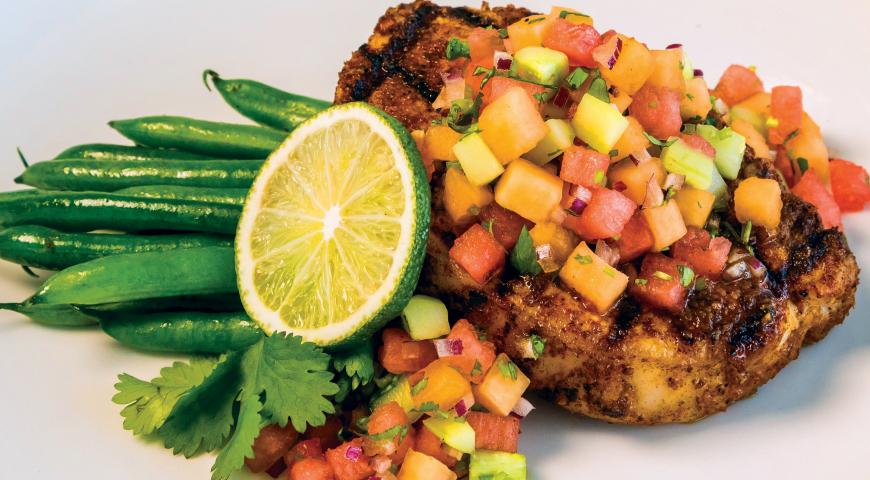 6 pieces
4 to 6 oz.boneless center cut pork chops (trim off extra fat)
1 cup
seedless watermelon (small diced)
1 cup
honeydew melon (small diced)
1 cup
cantaloupe (small diced)
1 tsp
fresh ginger (peeled, grated)
3 Tbsp
red onion (finely chopped)
1 Tbsp
jalapeno pepper (finely chopped, de-seed to reduce heat)
2 Tbsp
fresh cilantro (chopped)
Prep Time:
Cooking Time:
Total Time:
Instructions
To prepare the pork chops, combine the chili powder, cumin, garlic powder, ½ tsp. salt and pepper in a small bowl. Rub the seasoning mixture over both sides of each of pork chops and let marinate for 15 to 20 minutes while preparing the salsa.
To prepare the salsa, combine the watermelon, honeydew, cantaloupe, ginger, red onion, jalapeno pepper, cilantro, lime juice, honey and salt to taste then set aside.
Preheat grill grate or grill pan over medium-high heat. Spray cooking surface with non-stick cooking spray. Add the pork chops to grill or grill pan and cook 4 to 5 minutes on each side or until desired degree of doneness. Serve the salsa over pork chops. Enjoy with favorite side dishes.
Recipe brought to you by:
Find more Quick & 'Ono bites under these categories: