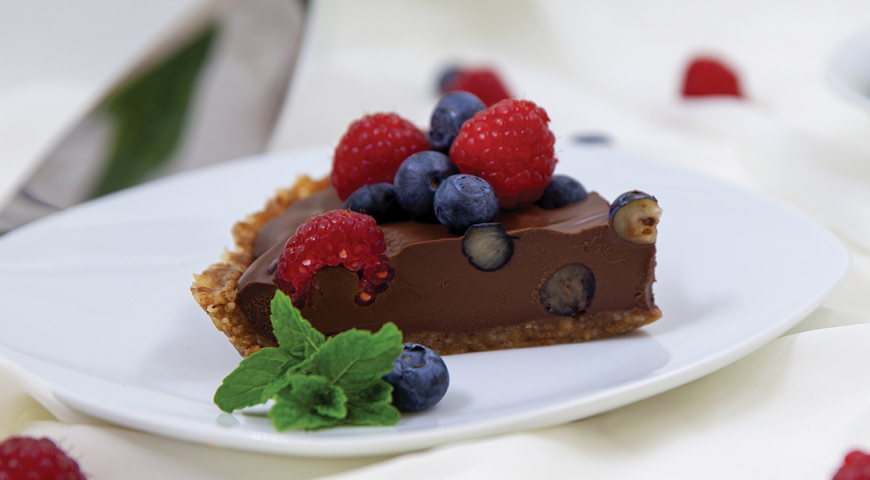 1 1/2 cup
walnuts or pecans
3/4 cup
soft dates (snipped* in smaller pieces)
1 1/2 cup
chocolate chips
1 cup
coconut milk (full fat)
1 1/2 cup
fresh fruit of choice (ie. sliced strawberries, raspberries, blueberries or kiwi)
Prep Time:
Cooking Time:
Total Time:
Instructions
Process the nuts in a food processor until they are fine crumbs. Add in the pitted dates and salt. Process until it all sticks together. Transfer to a lightly oiled pie plate and pat in place using plastic wrap to keep from sticking to your hands.
Place chocolate chips in a mixing bowl. Heat coconut milk to just boiling then pour over chocolate chips. Let sit a few minutes to melt the chips then stir until a creamy consistency.
Pour into the prepared crust and chill for 20 to 30 minutes or until the filling starts to thicken then cover with the fresh fruit and pat down a bit to stick.
Chill several hours or overnight until firm. Garnish with mint.
*Chef's Note: I like to use kitchen shears to cut the dates instead of a knife. It seems to be easier and less sticky. If the dates are not soft, you can soak in hot water for about 10 minutes; then drain and cut.
Recipe brought to you by:
Find more Quick & 'Ono bites under these categories: