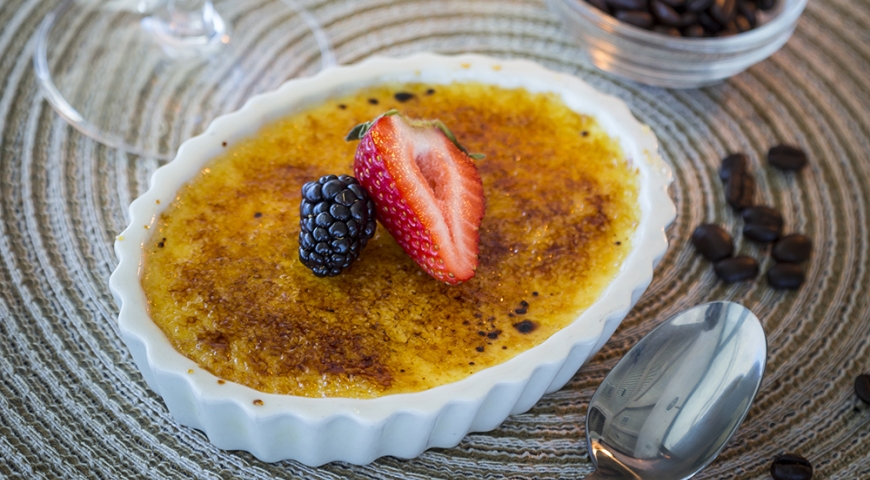 1 qt
heavy whipping cream
1 cup
Kona Coffee whole beans
1/2 cup
espresso (brewed)
Prep Time:
Cooking Time:
Total Time:
Instructions
In a medium pot over medium heat, combine the cream, sugar, coffee beans and espresso. Split the vanilla bean and scrape the vanilla seeds from the pod into the cream mixture. Add the vanilla bean pod to the mixture too. Simmer for about 5 minutes. Mix well, do not burn.
Place the egg yolks into a metal or glass mixing bowl. Whip over the simmering cream. To avoid burning, lift the bowl on and off of the heat while whipping; continue until the cream is frothy.
Strain cream through a fine mesh strainer. Add the cream to the eggs yolks and whip until egg-cream mixture thickens. Cream and egg mixture should be able to coat back of a spoon when it's finished.
Pour the mixture into ramekin dishes. Preheat oven to 350°F. Place dishes into a large deep pan. Pour hot water into the pan, until about half way up the outsides of the ramekin dishes, being careful not to splash any water into the brulee. Bake for 50 minutes.
Remove from heat and refrigerate. Cool for at least 2 hours. Remove from the fridge and sprinkle a light layer of sugar over top making an even coating; then use a torch to crystalize sugar.
Recipe brought to you by:
Find more Quick & 'Ono bites under these categories: