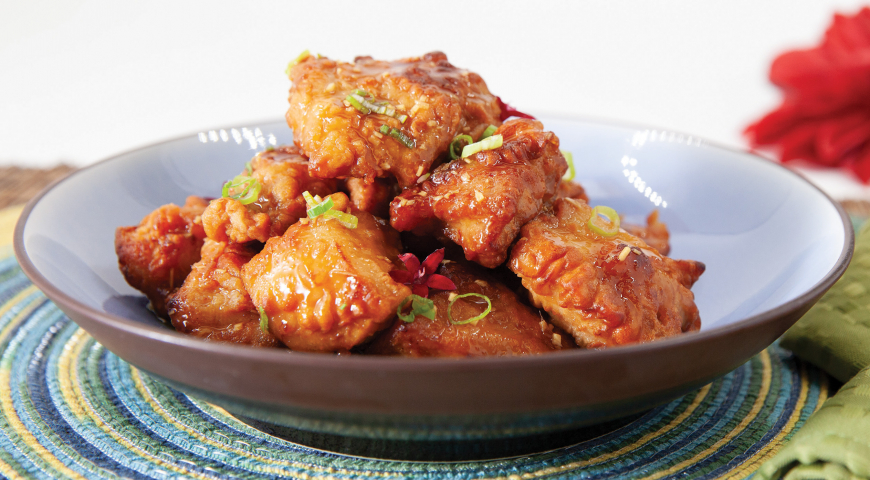 Description
Chef's Note: This tasty entree is best served over a bed of rice or greens of your choice, topped with some sesame seeds and green onions.
2 1/2 lb
chicken leg meat (diced into 1" cubes)
1 cup
UCook Lemongrass Sauce & Marinade (divided)
vegetable oil (as needed for frying)
Prep Time:
Cooking Time:
Total Time:
Instructions
Coat chicken with flour and set aside. Combine mochiko flour, cornstarch, sugar, ¾ cup of Lemongrass Sauce & Marinade, eggs and salt then mix with a whisk until smooth. Combine chicken and mochiko mixture and coat chicken well. Cover and refrigerate overnight. 
Heat vegetable oil in medium sized pot to 350°F. Stir chicken well in marinade one more time before frying. Drop chicken pieces in oil one at a time. Cook in batches so the chicken pieces aren't crowded. Fry for 3 to 4 minutes, until golden brown and cooked through. 
Place cooked chicken on a rack or paper towel to drain excess oil. Toss chicken with a light coating, about ¼ cup, of Lemongrass Sauce & Marinade and serve.
Recipe brought to you by:
Find more Quick & 'Ono bites under these categories: