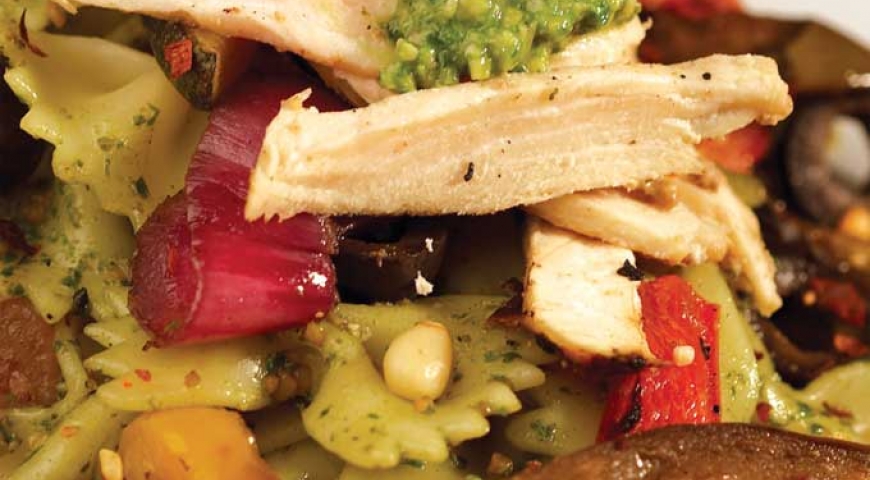 Description
This pasta is a great way to use leftover turkey and makes a great home lunch because it's best eaten at room temperature. You can also make a great vegetarian version by leaving out the turkey!
1 lb
farfalle pasta (bowties) (cooked)
3 cup
veggies (mushrooms, bell peppers, red onion, eggplant)
low calorie balsamic dressing (for marinating veggies)
1 - 2 cups shredded left-over turkey
1/2 cup
cheese (feta, swiss, mozzarella) (¼" cubed)
1/2 cup
parmesan cheese (grated)
1/4 cup
pine nuts (toasted)
1/2 cup
black olives (sliced)
red pepper flakes (optional)
To prepare the veggies, cut into 2" x ½" strips, toss with the balsamic dressing and season with salt and pepper. You can grill, sauté or broil them, just cook until crisp tender.
Boil a large pot of water, add a generous sprinkle of salt and cook the pasta according to the package directions. Al dente pasta will be firm and still have a slight bite to it – you don't want overcooked pasta (spongy and the pasta tends to break apart). While pasta is still warm, gently toss with the pesto, and then add the turkey, cheese, pine nuts, and the black olives, folding in the ingredients. Drizzle a little olive oil on top, add vegetables and toss once more. Then season with salt and pepper. If you like a little spice, top with a sprinkle of red pepper flakes.
Recipe brought to you by:
Find more Quick & 'Ono bites under these categories:
Source: