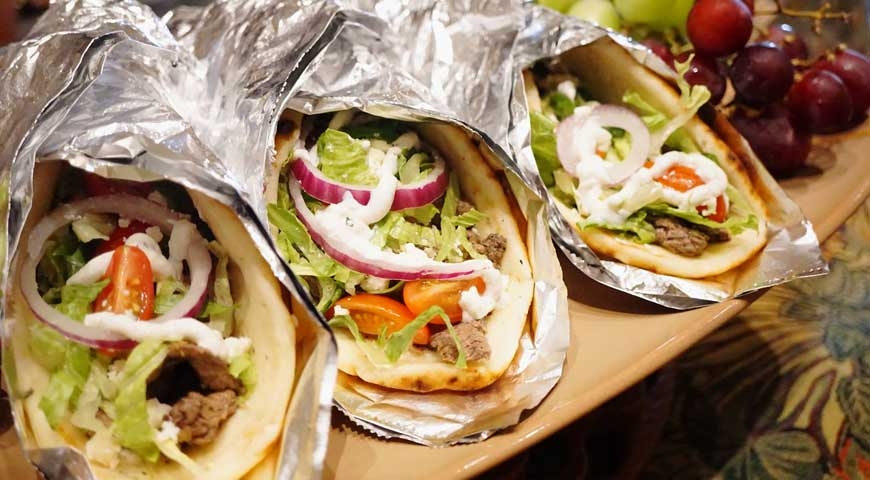 7 tsp
100% Kona coffee, finely ground, divided
2 tsp
black pepper, fresh ground
9 Tbsp
olive oil, divided
2 to 3 lb
tri tip beef, sliced very thin
1
medium cucumber, peeled, seeded and finely chopped
4 clove
garlic, finely minced
5 to 6
mint leaves, finely minced
6
pita bread or Naan type bread, heated to soften
1 hint
head romaine lettuce, coarsely chopped
2
vine ripened tomatoes, diced
1/2
white or red onion, slivered
Prep Time:
Cooking Time:
Total Time:
Instructions
For the Kona coffee marinade, in a small bowl combine 6 tsp. coffee, sea salt, black pepper, onion, garlic powder, thyme, 8 tbsp. olive oil, lemon, oregano and red wine, mix well.  Marinate tri tip beef in coffee mixture overnight.  Grill quickly over high heat and set aside.
For the Tzatziki sauce place yogurt in a tea towel, suspend over a bowl, and drain for 2 hours in the refrigerator.  Place cucumber in a towel and squeeze to remove liquid.  In a mixing bowl combine the strained yogurt, 1 tsp. coffee, cucumber, kosher salt, garlic, 1 tbsp. olive oil, red wine vinegar and mint then chill.
To assemble, place tri tip in warm pita.  Top with lettuce, tomatoes, slivered onions, feta cheese and tzatziki sauce.  Garnish with olives, pepperoncini peppers and red grapes.
Find more Quick & 'Ono bites under these categories:
Source:
Austin Kilkenny, Kona Coffee Recipe Contest Winner: Amateur Savory – 3rd Place