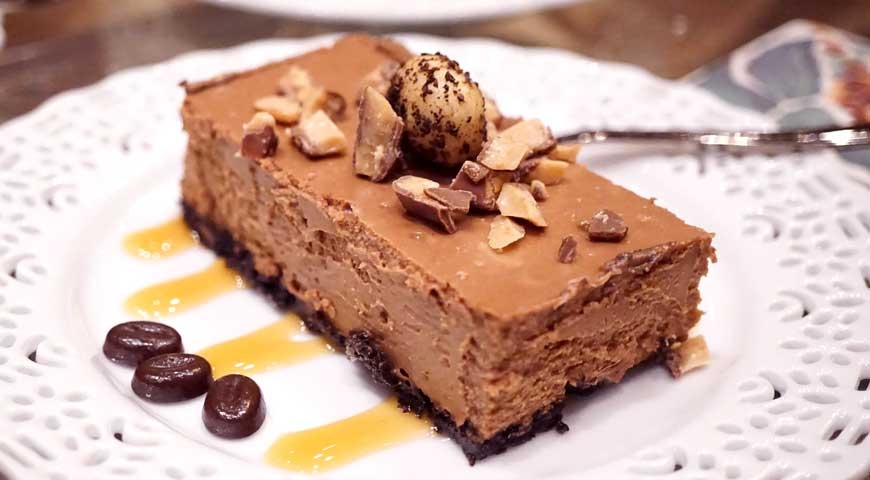 2 1/ cup
Oreo cookies, inside removed, crumbled
1 cup
semi-sweet chocolate chips
1/4 cup
heavy whipping cream
4 tsp
Kona coffee, medium roast
8 oz
cream cheese, softened
Prep Time:
Cooking Time:
Total Time:
Instructions
To make the crust, line a 9" x 13" pan with aluminum foil and preheat oven to 350°F.  Combine cookie crumbs, butter and sugar then press into pan, 1 inch up the sides.  Bake for 10 minutes and let cool.
To make the filling, melt chocolate chips and stir into heavy cream, until smooth and add Kona coffee, mix and set aside.  In a large bowl beat cream cheese and sugar until smooth then add sour cream, vanilla extract and salt.  Gradually add the chocolate coffee mixture.  Add eggs until combined.  Pour into cooled crust.  Prepare a water bath by placing the pan into a larger baking pan and add 1½ inches of hot water to large pan.  Bake at 350°F for about 60 minutes or until center is set.  Remove pan from hot water bath and let cool.  For best taste, cool overnight in refrigerator.
Decorate with toffee candy and dark chocolate before serving.
Find more Quick & 'Ono bites under these categories:
Source:
Sabine-Maeva Andresen, Kona Coffee Recipe Contest Winner: Amateur Sweet – 1st Place