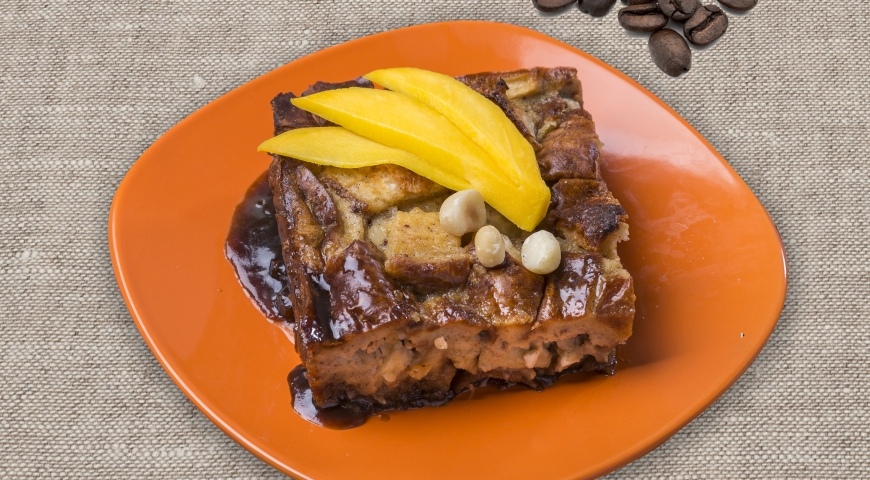 Description
2016 KTA Kona Coffee Cultural Festival Recipe Contest Winner
Prepared by Margaret Kilkenny
Amateur - Sweet Division 3rd Place
2 cup
dark brown sugar (firmly packed)
3 Tbsp
100% Kona coffee (finely ground, divided)
2
Granny Smith apples (peeled, finely chopped)
16 oz
sweetbread loaf (cut into 3/4" cubes)
2 cup
macadamias (coarsely chopped, divided)
2 cup
heavy whipping cream
1 Tbsp
Grand Marnier liqueur (optional)
Prep Time:
Cooking Time:
Total Time:
Instructions
Lightly grease a 9" x 13" glass baking dish, set aside.
Melt the butter in a small sauce pan. Stir in the brown sugar, maple syrup and 1 tbsp. coffee. Pour half of this mixture into the prepared baking dish.
Stir the apples into the remaining butter mixture. Set aside.
Place half of the bread cubes in an even layer over the butter mixture in the baking dish. Spread the apple-butter mixture over the bread. Sprinkle 1 cup macadamias over the apples. Layer the remaining bread cubes evenly on top. Set aside.
In a mixing bowl combine the eggs, cream, vanilla, 2 tbsp. coffee, liqueur (if using), cinnamon and salt. Whisk until well combined. Pour evenly over the top layer of bread cubes. Cover with plastic wrap and refrigerate overnight.
Bring to room temperature, uncover and bake at 325°F for 35 to 40 minutes or until golden and puffy. Sprinkle with remaining 1 cup macadamias and garnish with tropical fruit.
Find more Quick & 'Ono bites under these categories: