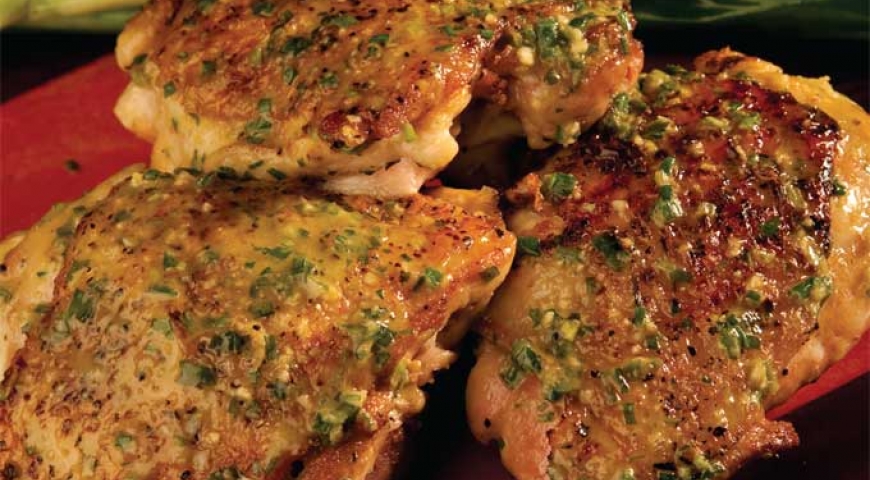 Description
It's BBQ season - and here is a recipe that uses scallions and combines it with pesto-crusted, barbecued chicken.
1 cup
Chinese parsley (chopped)
4
large scallions (chopped)
3 tsp
fresh ginger root (minced)
1 1/2 Tbsp
extra virgin olive oil
8
chicken leg quarters (thigh and drumstick pieces)
fresh ground black pepper
20
whole scallions (cleaned and roots removed)
Prepare the scallion pesto by combining all the pesto ingredients (Chinese parsley, 4 large scallions, 1 clove garlic, fresh ginger root, 4 tablespoons extra virgin olive oil, water, shoyu) in a food processor, blending until smooth (hint - mince the garlic clove first, by itself, then add everything else). Set aside 2 tablespoons of the pesto.
Prepare the grill with cooking spray. For the chicken, gently pull the skin up, and put a teaspoon or more of the pesto on the meat itself. Repeat this process for every piece. Place chicken in a large bowl, and toss with the remaining pesto to coat. Season liberally with salt and pepper. Set aside for 10 to 15 minutes. In a separate pan, toss whole scallions with 1½ tablespoons of extra virgin olive oil, minced garlic, salt and pepper.
Grill chicken on medium-high for 8 to 10 minutes each side until a crust develops and the juices run clear. Move chicken to a cooler side of the BBQ, then grill whole scallions for 4 minutes each side until slightly charred. Serve together.
Recipe brought to you by:
Find more Quick & 'Ono bites under these categories:
Source: