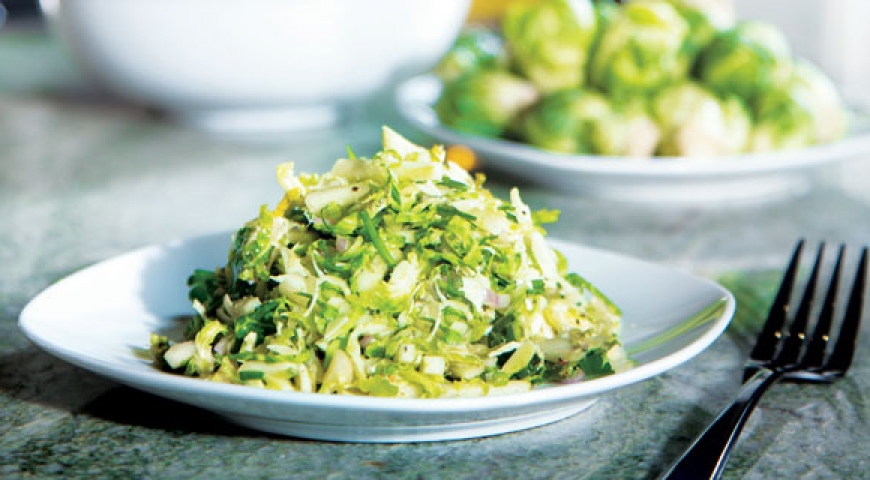 1 lb
brussel sprouts (washed)
1
granny smith apple (medium or large)
2
green onions (sliced thin)
1/2 cup
Italian flat leaf parsley leaves
1/4 cup
macadamia nuts (toasted & chopped)
1/2 tsp
fresh thyme (minced)
1/2 tsp
fresh rosemary (minced)
1
small shallot (finely minced)
1 Tbsp
apple cider vinegar
3 Tbsp
extra virgin olive oil
Using a mandolin, shave the raw brussels sprouts paper thin, or slice thinly with a sharp knife.
Peel the apple and cut into 1/16 inch batons (also called matchsticks or julienne strips) or shred using a box grater to make about 2 cups.
Place the apple into a large bowl. Add the zest and 1 tsp. juice from the lemon to prevent the apple from turning brown. Add the shaved Brussels sprouts, green onion, parsley and macadamia nuts to the salad.
To make the dressing, in a separate small bowl, whisk together the thyme, rosemary, shallot, apple cider vinegar, olive oil, honey and a heavy pinch of salt and pepper.
Pour all of the vinaigrette over brussels sprouts salad and toss well to coat, season to taste. Serve immediately.
Recipe brought to you by:
Find more Quick & 'Ono bites under these categories: