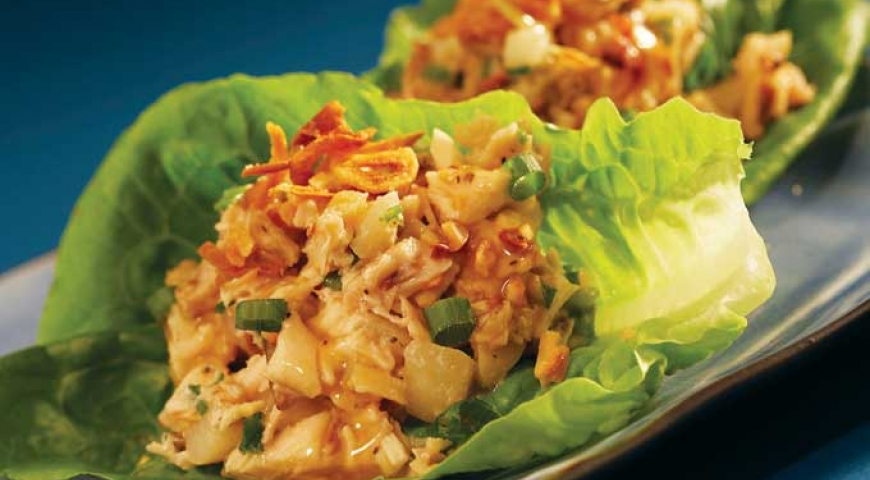 Description
I've had plenty of versions of lettuce wraps, and they all seem to end up on my lap or running down my arms.  The easiest solution is to use baby romaine lettuce as the "cup" – not only do you benefit from the added nutrition, the crunchy baby romaine tends to keep its shape and not fall apart.
- Chef Michi
2
heads of baby romaine lettuce (about 30 leaves)
4 cup
cooked rotisserie chicken (diced)
1 can
water chestnuts (8 oz.; finely diced)
1/2 cup
dried shiitake mushrooms (soaked in hot water to reconstitute; minced)
3/4 cup
Asian style dressing (Tropics Fat-Free Oriental dressing works great)
1/2 cup
roasted peanuts (chopped)
1/2 cup
green onion (sliced)
fresh ground black pepper (to tatste)
1/2 cup
fried shallot (can substitute fried won ton strips)
Wash and separate baby romaine leaves, carefully keeping each leaf whole.  In a bowl, combine chicken, water chestnuts, shiitake mushroom, dressing, peanuts, and green onion and mix thoroughly. Season with salt and black pepper.  Spoon a rounded tablespoon of the mixture into each lettuce cup and top with a sprinkle of the fried shallot.
Recipe brought to you by:
Find more Quick & 'Ono bites under these categories:
Source: