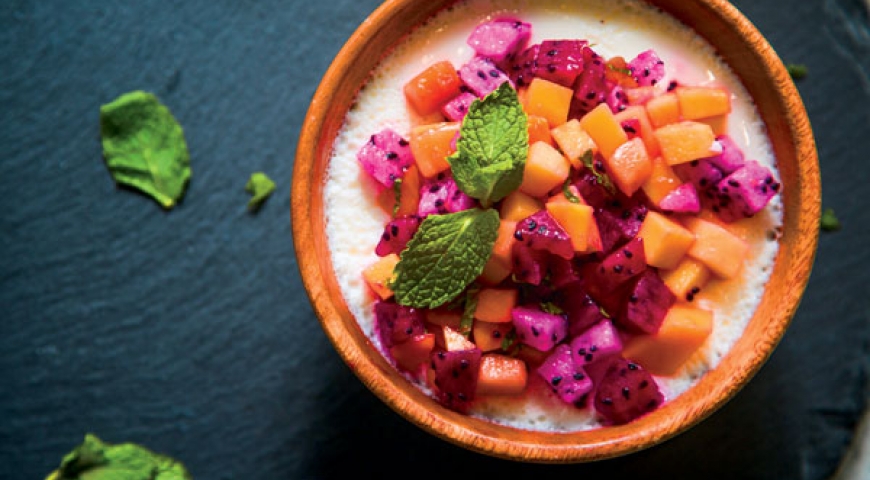 4 cup
half & half or half milk/half cream
1 1/2 tsp
almond or vanilla extract
2 cup
local fruit (diced)
Prep Time:
Cooking Time:
Total Time:
Instructions
Pour water over gelatin and allow it to bloom for 5 to 10 minutes.
In a small saucepan, warm the half and half with the sugar, over medium high heat, stirring to dissolve. Once the sugar is dissolved, remove from the heat and stir in a pinch of salt and the almond or vanilla extract.
Add a cup or ladle full of the cream mixture to the gelatin and stir until there are no lumps, creating a "slurry". Add the slurry back to the pan of cream. Remove from heat and whisk until gelatin is completely dissolved.
Divide the custard between 8 ramekins or serving cups. Refrigerate for 1 to 2 hours, until set.
To serve, unmold* the panna cotta or serve in the cups. Top with a compote of fresh, local fruit, diced small and tossed with thinly sliced ribbons of fresh mint and garnish with a sprig of mint.
* If you are planning to unmold your panna cotta, lightly coat each ramekin or custard cup with canola oil before filling with panna cotta.
Recipe brought to you by:
Find more Quick & 'Ono bites under these categories: