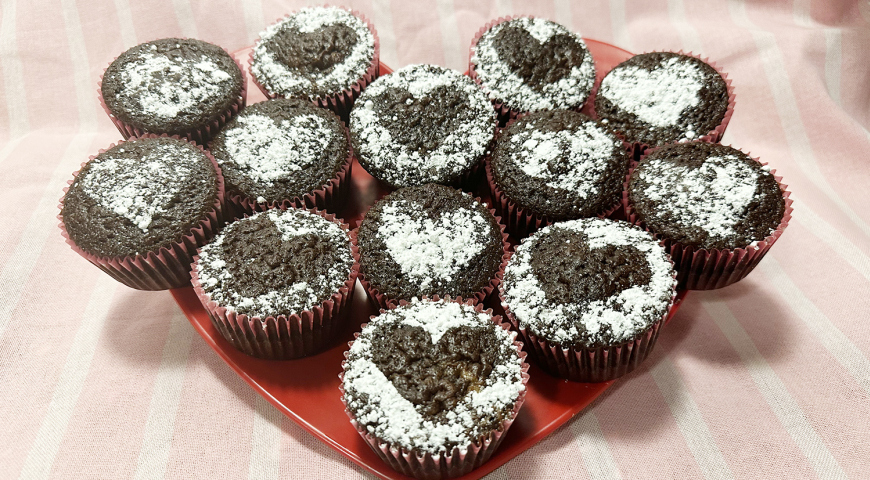 8 oz
package of cream cheese (at room temperature)
1 cup
dark chocolate or semi-sweet chocolate chips
powdered sugar (for dusting)
Prep Time:
Cooking Time:
Total Time:
Instructions
Preheat oven to 350 degrees and fill cupcake tin with the cupcake liners. Prepare the cake mix according to the box directions then pour into the cupcake liners, about 1/2 full.
To make the filling, combine cream cheese, egg, sugar and salt in a mixer bowl and beat until creamy. Fold in chocolate chips. Put filling into a quart size plastic bag and snip off a bit of the corner (not too big - you can start small, just be sure the chips can fit through the hole). Insert the tip of the bag into the batter of each cupcake about half an inch and squeeze about a tablespoon of filling into each. Smooth over the top of the cupcake if any filling is showing.
Bake for 25-35 minutes or until a toothpick comes out clean when inserted. Cool cupcakes to room temperature then dust with powdered sugar. For a special presentation, cut out a heart slightly smaller than the top of the cupcake and use the frame and the heart shape as a stencil - the heart shape will appear when you dust the sugar onto the top of this delectable treat.
Find more Quick & 'Ono bites under these categories: