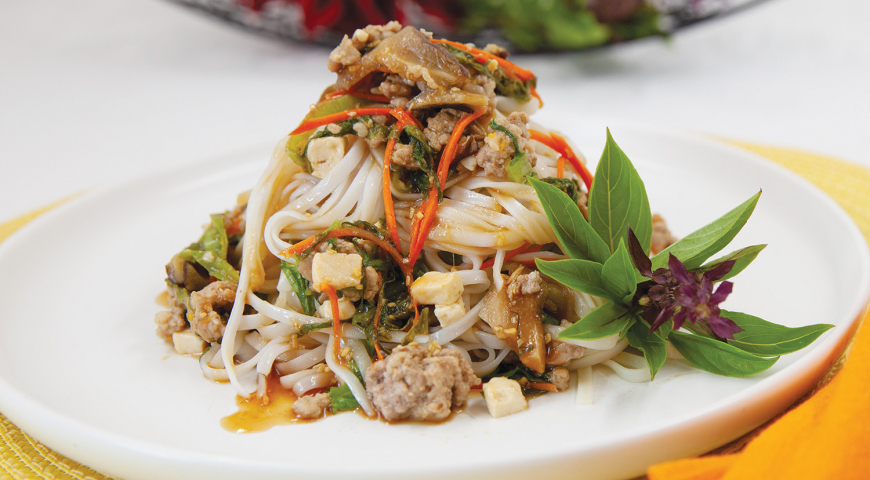 Description
Chef's Note:  This recipe is measured out for half the stated amount of cooked rice noodles. If you want to cook all rice noodles, double the meat and vegetables, but I recommend cooking in two batches to make handling easier! 
3/4 cup
UCook Ka'u Orange Sauce
1 1/2 Tbsp
lime juice (fresh squeezed)
8 oz
rice noodles (softened in warm water until pliable)
3 Tbsp
vegetable oil or any light, high temperature cooking oil
3/4 cup
ground pork (seasoned)
2
shiitake mushrooms (julienned in fine strips)
1 1/2 cup
mustard greens (julienned, blanch in 3 cups boiling water & 2 tsp. salt)
1/3 cup
tofu (small dice)
1/2 cup
carrots (julienned)
2 to 3 Tbsp
fresh mint (julienned fine)
Prep Time:
Cooking Time:
Total Time:
Instructions
Start by preparing the stir-fry noodle sauce—combine the Ka'u Orange Sauce, fish sauce, orange zest and lime juice. Mix well and set aside.
Cook softened rice noodle in 2 quarts of boiling water for 30 seconds. Strain noodles and rinse with cold water; split the amount in half & set aside. 
Heat oil in medium sized teflon pan until lightly smoking. Add ground pork and garlic & sauté for 1 minute. Add shiitake and continue sautéing for 30 seconds. Then add the blanched mustard greens, tofu, bean sprouts, carrots and ½ cup of stir-fry noodle sauce to the pan. Heat through and mix well. Add mint & mix well. Remove from heat and serve. 
Extra sauce mixture may be added to flavor noodles as desired or used for the other half of the noodles.
Recipe brought to you by:
Find more Quick & 'Ono bites under these categories: