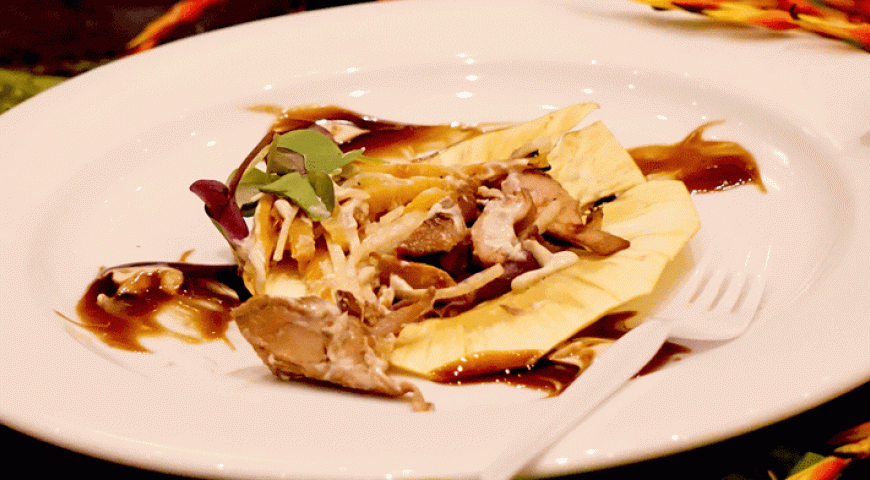 5 lb
boneless chicken thighs
6 cup
fresh brewed 100% Kona coffee (divided)
1/4 cup
liquid hickory smoke
1
half ripen breadfruit (thinly sliced)
1/2 lb
cooked sweet potato (pureed)
1
pineapple (thinly sliced)
3 pieces
hickama (peeled then sliced julienne)
Prep Time:
Cooking Time:
Total Time:
Instructions
Brew 6 cups of 100% Kona coffee.  Separate 4 cups then chill.  Set aside.  Reduce the remaining 2 cups to 1 cup then set aside.
To prepare the chicken, marinate chicken thighs with 4 cups coffee, brown sugar, and liquid smoke.  Marinate overnight then grill until tender.
Thinly slice breadfruit.  Deep fry breadfruit, then drain oil.  Cook sweet potato until tender, then puree.  Set aside.
To prepare slaw, grill pineapple until lightly caramelized.  Mix with hickama.
To prepare Kona coffee sour cream combine 1 cup reduced Kona coffee, and sour cream.
Once chicken is done grilling, shred chicken and assemble your Hawaiian tostada.
Find more Quick & 'Ono bites under these categories:
Source:
Recipe By: Deanna Delmar - 1st Place Professional Entrée Winner 2015 Kona Coffee Recipe Contest