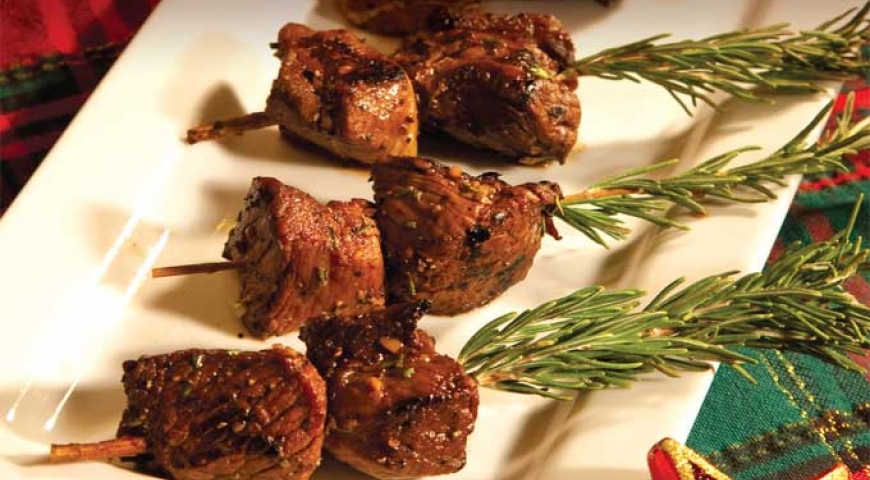 Description
There are some things that I always have in my refrigerator and pantry, which is where I got the inspiration for this recipe. This is an easy yet deliciously satisfying dinner.
6 clove
fresh garlic (minced)
1 Tbsp
fresh rosemary (minced)
12
rosemary sprigs (6" long)
In a medium non-reactive bowl, combine the balsamic vinegar, olive oil, minced garlic, lemon zest, rosemary, garlic salt and black pepper. Trim off as much of the fat as possible from the lamb roast, then cut into 1½" squares. Toss in the marinade and refrigerate 3 to 4 hours, or overnight if possible. 
Leaving 2" of the top of each sprig, remove the leaves from the rosemary stem. Poke a hole through the middle of the lamb using the skewer, then slide the meat onto the rosemary stem, repeating with another two pieces of lamb. 
To cook the lamb, you can grill over a medium hot grill for 3 minutes on each side, or if you have a pan with grill grooves you can actually cook these on your stovetop. After cooking, sprinkle with a tiny bit of salt, just a touch will go a long way (the salt should just kiss your tongue). Serve while still warm, although room temperature is fine too.
Recipe brought to you by:
Find more Quick & 'Ono bites under these categories:
Source: