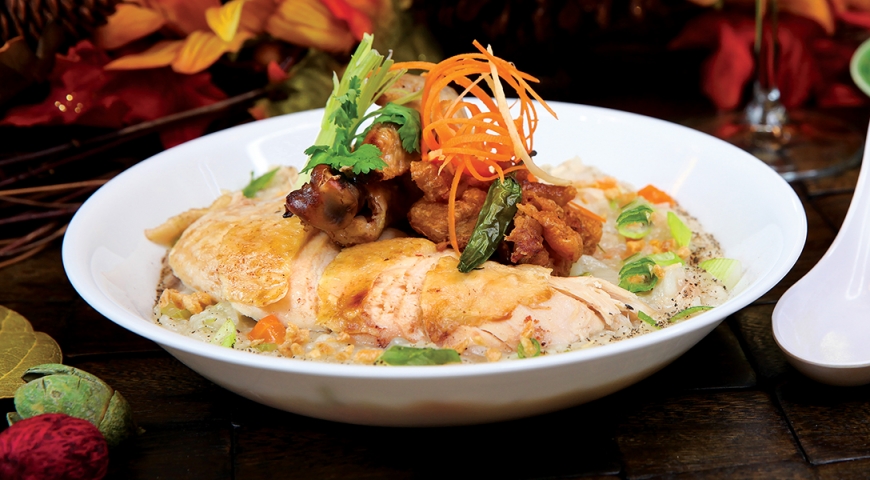 1/4 cup
onion (small diced)
1/4 cup
celery (small diced)
1/4 cup
carrot (small diced)
3 qt
turkey or chicken stock (homemade or packaged)
8 oz
roasted turkey (pulled, chopped)
8 oz
roasted chicken (pulled, chopped)
1/2 Tbsp
granulated garlic
1-2
Hawaiian green chilies (minced, optional)
1/4 cup
green onion (sliced thin, optional)
1/4 cup
carrot (finely julienned, optional)
1 Tbsp
ginger (grated, optional)
1/4 cup
cilantro leaves (optional)
1/2 tsp
fried garlic (optional)
1 cup
chicken skin (fried crispy, optional)
Prep Time:
Cooking Time:
Total Time:
Instructions
Add the butter and garlic to a large stock pot over medium high heat; cook for 2 minutes, stirring to avoid burning. Add the diced onion, celery, carrot and ginger and cook for 2 to 3 minutes until vegetables start to sweat.
Add the stock, turkey, chicken, granulated onion, granulated garlic and bay leaf along with salt and pepper to taste. Bring the mixture to a simmer; then add the rice. Cook for 12 to 15 minutes, until the rice starts to break down. Lower the heat to medium low and stir frequently to avoid scorching the bottom of the pot. Jook should be thick like stew but not dry. Adjust seasoning to taste; add more stock to control consistency.
Serve hot, garnished with Hawaiian green chilies, green onion, carrots, ginger, cilantro leaves, fried garlic and crispy fried chicken skin, if desired.
Recipe brought to you by:
Find more Quick & 'Ono bites under these categories: