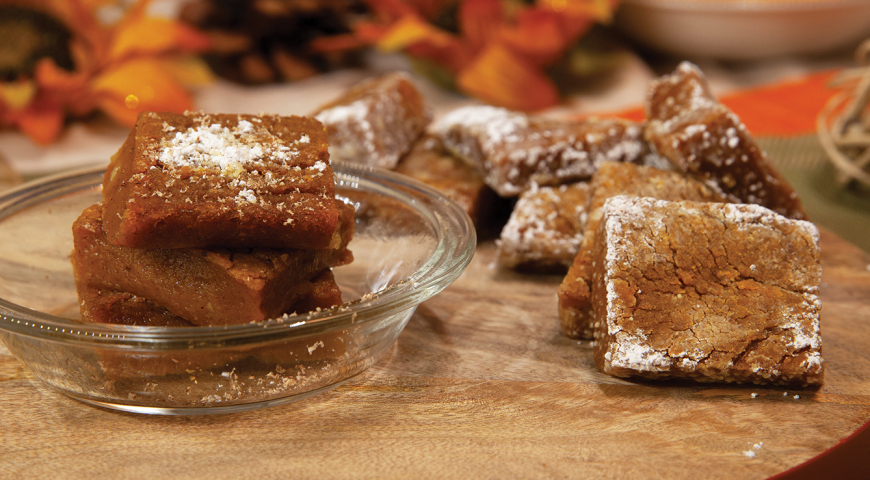 Description
A little different with crystallized ginger and nutmeg, this Pumpkin Mochi is a local twist to traditional pumpkin pie.
1 1/2 tsp
pumpkin pie spice
1 Tbsp
crystallized dry ginger (minced)
1/2 cup
refined coconut oil
2 cup
cooked kabocha pumpkin (peeled and seeded or canned)
1 cup
coconut milk (full fat)
2 Tbsp
cornstarch, potato starch or arrowroot
1/2 tsp
fresh nutmeg (grated)
Prep Time:
Cooking Time:
Total Time:
Instructions
Line an 8"x 8" baking dish with parchment paper. Heat oven to 350° degrees. Combine the mochiko flour, baking powder, pumpkin pie spice, salt and ginger in a large mixing bowl. In a blender, add in the brown sugar, coconut oil, pumpkin, coconut milk and vanilla. Blend until smooth. Add to the bowl and stir well to combine. Pour into the prepared pan and smooth top.
Bake for 35 minutes or until the top is firm. Cool at least an hour before cutting. Dust or roll cut pieces in a combination of sifted powdered sugar, cornstarch and nutmeg.
Store in an airtight container—lined with wax or parchment paper overnight on the counter—  not in the refrigerator as it will get hard.
Recipe brought to you by:
Find more Quick & 'Ono bites under these categories: