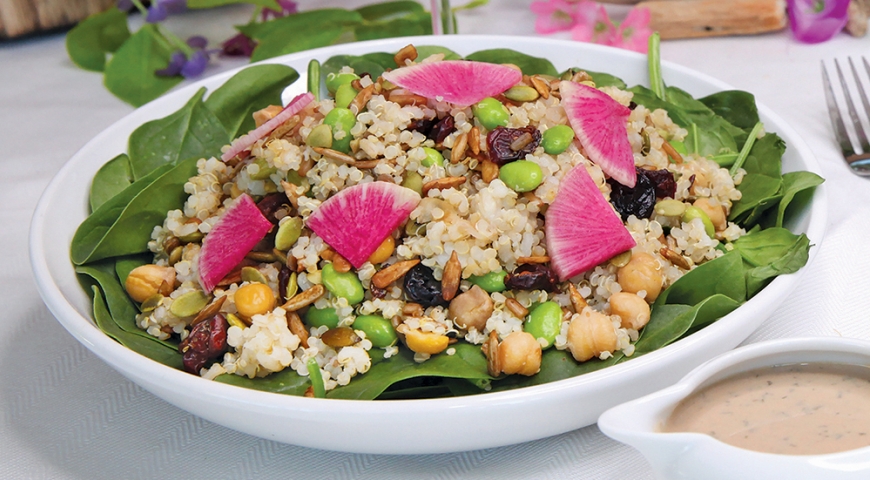 Description
Chef's Notes: Developed for her cafe patrons looking for vegetarian meal options, Chef Michi prepares this hearty and delicious bowl to keep folks energized throughout their busy days. Best served at room temperature or cold – so prepare the quinoa and barley ahead of time so it's a snap to put together.
5 cup
prepared white quinoa
1 cup
prepared barley or brown rice
1 cup
edamame (cooked, shelled)
1 cup
chickpeas (canned, drained)
1 cup
pumpkin seeds, walnuts, almonds, pistachios, dried cranberries (mixed)
2/3 cup
prepared ranch dressing
12 cup
spinach greens (washed)
watermelon or red radish (sliced thin)
Prep Time:
Cooking Time:
Total Time:
Instructions
Prepare the quinoa, barley or brown rice and edamame according to package directions.
In a large mixing bowl, combine and toss together the quinoa, barley or brown rice, edamame, chickpeas, fruits and nuts.
In a small bowl, stir to combine the ranch dressing and balsamic vinegar.
To serve, make a bed of spinach on individual plates or bowls and top with a mound of the grain mixture. Drizzle with dressing and garnish with radish slices.
Recipe brought to you by:
Find more Quick & 'Ono bites under these categories: