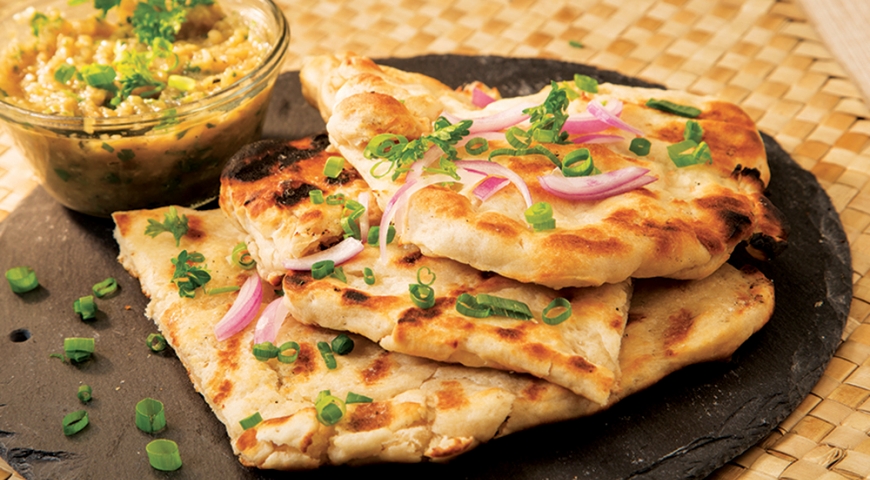 4 Tbsp
olive oil (divided)
Prep Time:
Cooking Time:
Total Time:
Instructions
In a small bowl or measuring cup, combine the yeast and lukewarm water, stirring vigorously until the yeast is fully dissolved. Let rest for 3 minutes.
In a large mixing bowl, stir together the flour, baking powder and salt.  Add 3 tbsp. oil, eggs, yeast and yogurt and mix well.  Knead the dough for 10 minutes until it is smooth and elastic, then place it into an oiled bowl. Cover the bowl and let the dough rise is a warm spot for 45 to 60 minutes, or until it has doubled in size.
Punch down the dough and divide it into 4 oz. balls (about the size of a tennis ball). Place onto a sheet pan lined with oil, then cover and refrigerate until ready to grill.
Heat the grill and apply non-stick cooking spray. Using a rolling pin, flatten each ball of dough until ¼" thick. Sprinkle dough with a little salt and grill for 3 to 4 minutes per side, until crispy.
Brush with melted butter and enjoy with hummus or baba ganoush, or get creative and use naan as a burrito wrapper or a pizza crust.
Recipe brought to you by:
Find more Quick & 'Ono bites under these categories: