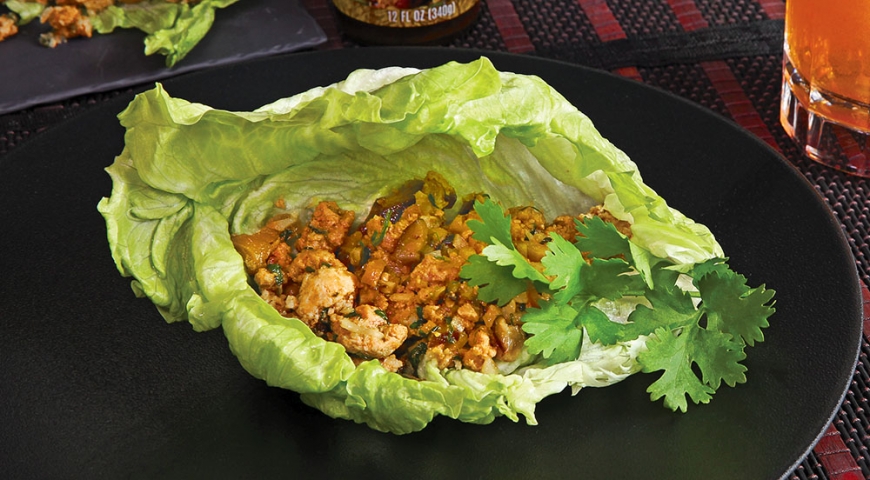 8 oz
water chestnuts (canned, small dice)
1/2 cup
shiitake mushrooms (hydrated, chopped, squeezed to remove excess liquid)
2 Tbsp
green onions (sliced thin)
1/2 cup
uCook Lemongrass Sauce & Marinade
cilantro (optional garnish)
Prep Time:
Cooking Time:
Total Time:
Instructions
Lightly season the pork with salt and pepper and add it to a large frying pan. Cook over medium high heat for 3 to 4 minutes until browned; drain off the excess oil.
Add the water chestnuts, mushrooms, green onion and ½ cup Lemongrass Sauce & Marinade to the frying pan and simmer over medium high heat for 4 to 5 minutes.
Remove from heat; taste, then add more Lemongrass Sauce & Marinade if needed.
Wash the head of lettuce, cut it in half and separate. To serve, spoon the pork filling into the lettuce cups, top with cilantro then wrap and enjoy with an ice cold beer.
For a bolder flavor, prepare the filling the night before or several hours before and refrigerate until ready to serve. Reheat before serving.
Recipe brought to you by:
Find more Quick & 'Ono bites under these categories: