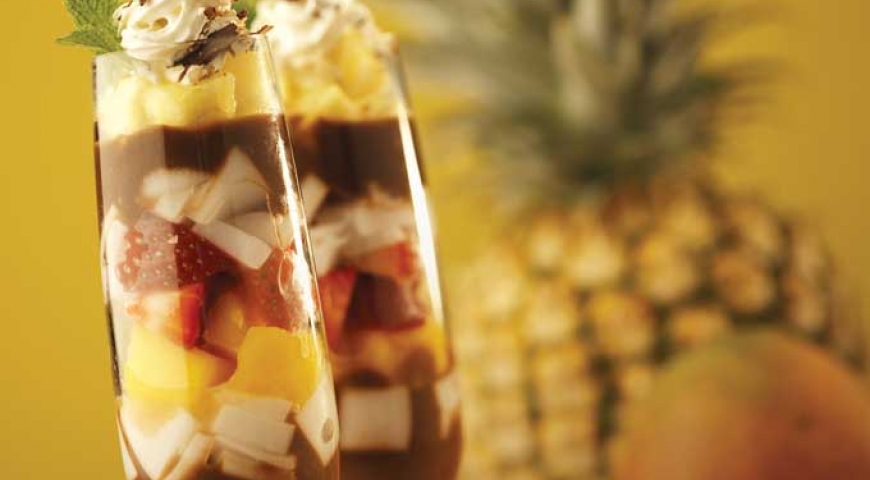 Description
Here's a dazzling dessert that (shhhh) uses packaged dessert mixes to help keep things simple - the end result is spectacular!
1 pkg
instant chocolate pudding mix
1 1/2 cup
fresh strawberries (sliced)
1 1/2 cup
fresh mango (diced)
1 1/2 cup
fresh pineapple (diced)
1/2 cup
macadamia nuts (chopped)
1
dark chocolate bar (for shavings)
mint leaves (optional; for garnish)
Prepare the pudding and the haupia mixes separately according to package directions. When both are set, cut the haupia into ½" cubes (about 2 cups). Get all your ingredients together so you can assemble the desserts. Start with tall glasses (stemmed glasses will look the best, but regular juice glasses will work too!). Line the bottom of each glass with a layer of chocolate pudding, then a layer of haupia cubes, followed by strawberries, then whipped cream, mango cubes, haupia, pineapple cubes, and finally chocolate pudding again. Top it with the remaining whipped cream and garnish with chocolate shavings, mac nuts, and mint leaves.  
You can make really nice chocolate curls just by using your vegetable peeler. Run the peeler along the flat side of the candy bar, trying to make the curl as wide as possible.
Recipe brought to you by:
Find more Quick & 'Ono bites under these categories:
Source: