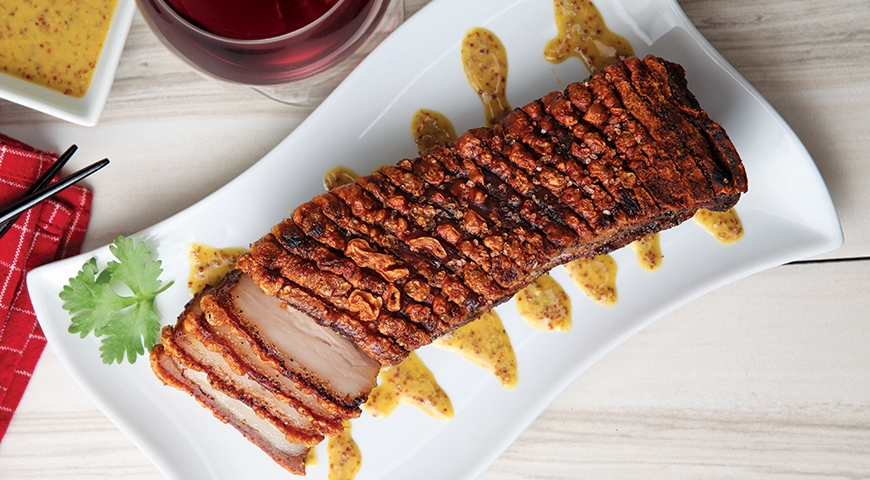 3
lilikoi (juiced, 2 tbsp. strained juice)
1/2 tsp
'alaea salt (optional)
Prep Time:
Cooking Time:
Total Time:
Instructions
Preheat oven to 450°F.
Pat the pork belly dry with a paper towel and place it into a large, broiler-safe baking dish. With the skin side up, score it, making ¼" deep cuts every ¼". Rub the whole scored pork belly with 1 tsp. of oil, salt and pepper.
Place the baking dish into the oven and roast for 10 to 15 minutes. Reduce the oven temperature to 350°F and continue to roast for about 45 minutes.
In a small mixing bowl, combine the lilikoi juice, sugar and vinegar; whisk well to combine. Add the mustards, whisk again and season to taste with salt and pepper. Refrigerate.
For extra crispy pork belly, brush an additional tsp. oil on the skin and sprinkle with 'alaea salt. Broil about 6" away from heat source for 5 to 10 minutes keeping close watch to prevent burning.
Remove from the oven and set aside for 30 minutes before cutting. Serve with the lilikoi mustard dipping sauce and enjoy with a glass of Beaujolais wine.
Recipe brought to you by:
Find more Quick & 'Ono bites under these categories: