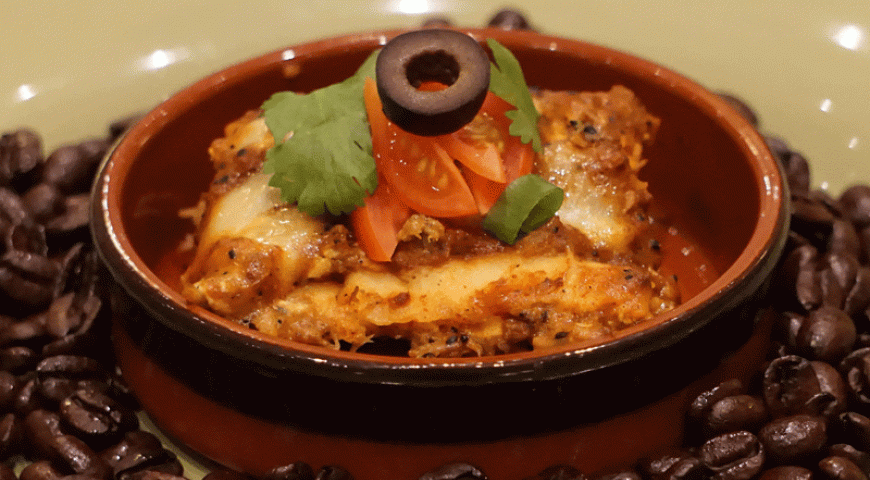 5 lb
prepared Kona coffee rubbed kalua pork (chopped)
1
large white onion (finely diced)
4 Tbsp
Kona coffee beans (ground extra fine, divided)
4 Tbsp
chili powder (divided)
2 tsp
fresh ground pepper
16 oz
cheddar or jack cheese (finely shredded)
1/2 bunch
green onions (sliced)
2
tomatoes (finely diced)
8 oz
black olives (sliced)
Prep Time:
Cooking Time:
Total Time:
Instructions
In a large bowl, combine the pork, onion, 2 tbsp. ground coffee, 2 tbsp. chili powder, pepper, onion powder, garlic powder, coriander, oregano, hot sauce and salt to taste. Set aside.
In a medium bowl, combine the chili, 2 tbsp.  ground coffee and 2 tbsp. chili powder and water. 
Spread ½ of the chili mixture in a 9"x13" casserole dish. 
Fill a tortilla with cream cheese, spoon about ¼ cup pork down the center, sprinkle with cheese and tightly roll up. Place seam down over the chili mixture in the casserole dish. Continue until dish is filled. 
Pour remaining chili mixture over top of rolled enchiladas.
Bake at 350°, until bubbly. About 30 minutes.
Sprinkle top with extra cheese and return to oven until melted.
Garnish with green onions, tomatoes, cilantro and olives.
Find more Quick & 'Ono bites under these categories:
Source:
Recipe By: Joy Marie Kailiuli - 1st Place Amateur Entrée Winner 2015 Kona Coffee Festival Recipe Contest