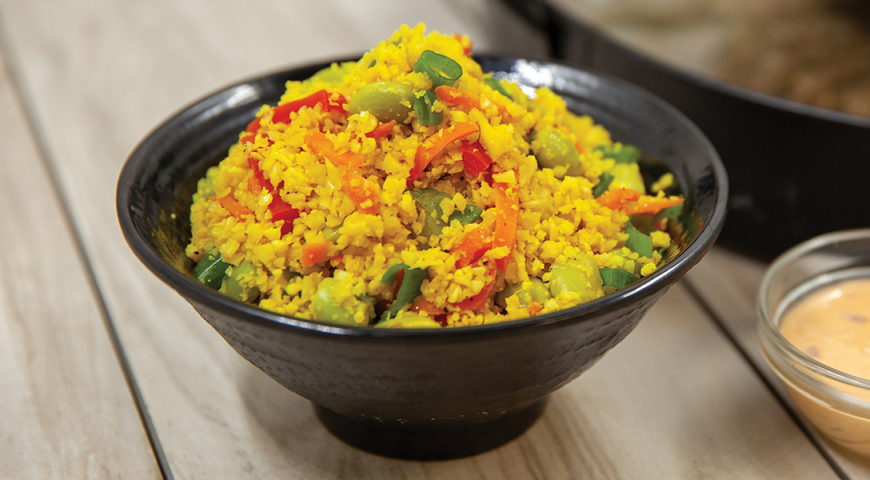 1/2 cup
carrots (thinly sliced)
1/2 cup
red bell pepper (thinly sliced)
5 cup
cauliflower (about 2 lbs., grated, use a food processor or box grater)
1 Tbsp
toasted sesame oil
1 Tbsp
+ 1 tsp. rice vinegar (divided)
1 cup
edamame (cooked & shelled)
1 cup
baked tofu (cut into small cubes)
1/4 cup
green onions (thinly sliced)
Prep Time:
Cooking Time:
Total Time:
Instructions
Heat oil in a large skillet, sauté carrots, bell pepper with the ginger until crisp tender, a few minutes. Add the cauliflower, turmeric and garlic. Stir well to cook the cauliflower rice evenly, allowing the turmeric to color the rice and the garlic to cook without burning. 
Combine the shoyu or tamari, sesame oil, 1 tbsp. of rice vinegar, salt and pepper and mix well; add to skillet and stir in thoroughly. Lastly, add in the edamame, tofu and heat through. 
Serve on a platter topped with the green onions. Combine the sambal, mayonnaise and 1 tsp. rice vinegar. Drizzle over the individual servings as desired.
Recipe brought to you by:
Find more Quick & 'Ono bites under these categories: