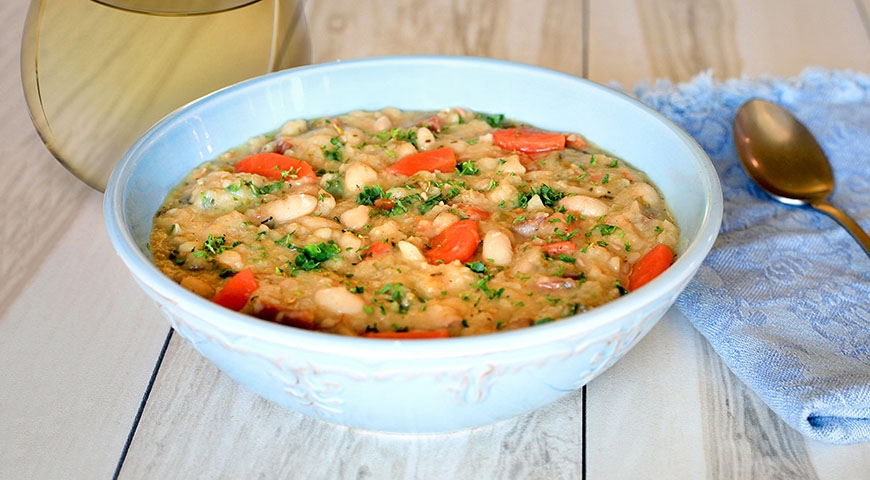 16 oz
Great Northern white beans, dried OR 30 oz. white beans, canned, liquid reserved
1 tsp
extra virgin olive oil
1 tsp
dried thyme leaves (heaping)
2
bouillon cubes (vegetable or chicken)
8 oz
Portuguese sausage (1/2" diced)
1 bunch
kale (stems removed, leaves chopped)
3 Tbsp
dried or fresh parsley
Prep Time:
Cooking Time:
Total Time:
Instructions
If using dried beans, soak them overnight in a medium size pot; discard the liquid. Fill the pot with enough water to cover the beans by 1" and bring to a boil. Cook the beans for about 1½ hours on a low simmer, adding water occasionally to keep 1" of water over the beans, until some of the beans start to break up.
Add the olive oil to a frying pan and sauté the onion, thyme, pepper and garlic salt. Set aside.
Add the cooked onions, bouillon and sausage to the beans (or to a medium pot with canned beans and their liquid) and increase the heat for a more active simmer, for about 15 minutes. Add more water as needed to loosen up the soup and stir occasionally, which will help thicken the broth.
The kale and parsley are added last; it's ready to serve when the kale has wilted.
Recipe brought to you by:
Find more Quick & 'Ono bites under these categories: