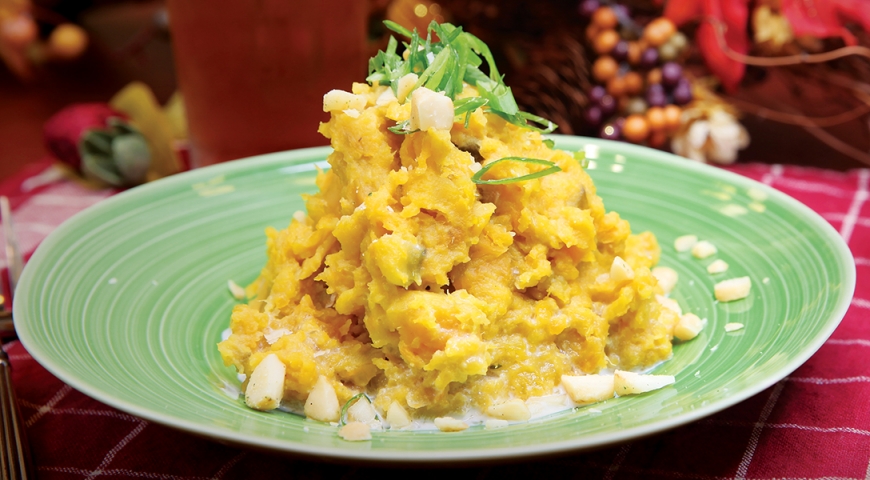 16 oz
Molokai or Okinawan sweet potatoes (peeled, diced large)
1 cup
coconut milk (canned)
1 Tbsp
macadamia nuts (chopped)
Prep Time:
Cooking Time:
Total Time:
Instructions
Coat the bottom of a large pan with olive oil; heat the pan on medium until the oil starts to simmer. Add the onions and stir to coat with oil. Spread the onions out evenly and let cook, stirring occasionally, for about 4 to 5 minutes. Set aside. 
Place the potatoes into a medium sauce pot and cover with water. Cook over medium high for 18 to 20 minutes, until fork-tender. Do not overcook.In another sauce pot, combine the coconut milk, milk, butter and granulated onion; heat until butter is melted.
Strain and discard the cooking liquid from the potatoes. Add the milk mixture to the potatoes and season to taste with salt and pepper.
Add ¼ cup caramelized onions and mash until evenly mixed. Season to taste and serve warm with a drizzle of coconut milk and mac nuts.
Enjoy this sweet potato dish with your Turkey Day leftovers and a glass of iced tea!
Recipe brought to you by:
Find more Quick & 'Ono bites under these categories: