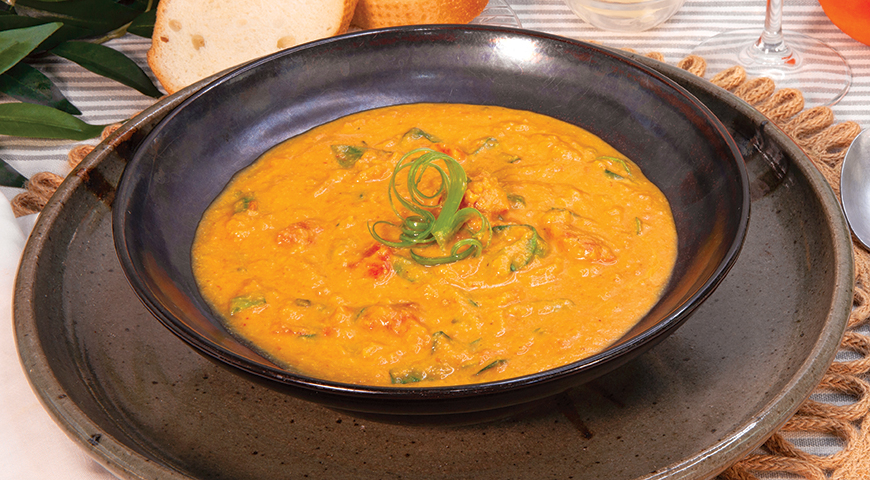 Description
Chef's note: You can easily make this a meal by adding your favorite protein such as cubed tofu, broccoli, mixed seafood or diced chicken.
1 1/2 tsp
extra virgin olive oil or vegetable oil
1
medium onion (minced very fine or pulsed in a processor)
2 Tbsp
Thai red curry paste
2 Tbsp
Thai or Vietnamese fish sauce
14 oz
unsweetened coconut milk
4 cup
vegetable or chicken stock
1 bunch
fresh kale (thick spines removed, chopped)
2 to 3 Tbsp
instant mashed potato flakes to thicken (optional)
2 Tbsp
chives (chopped or dried)
fresh cilantro (chopped for garnish)
Prep Time:
Cooking Time:
Total Time:
Instructions
Heat a large soup pot over medium heat, add the oil and sauté the onion for 2 to 3 minutes. Add the curry paste, turmeric, garlic and garlic salt; cook for an additional minute, constantly stirring to help release the essential oils in the spices. Add the fish sauce, coconut milk, diced tomatoes and stock. Bring to a gentle simmer and cook for about 10 minutes. Then add the kale, cooking just until it wilts. If the soup is thin, add instant mashed potato flakes to thicken as needed. To serve, ladle into bowls and top with chopped cilantro and chives.
Find more Quick & 'Ono bites under these categories: