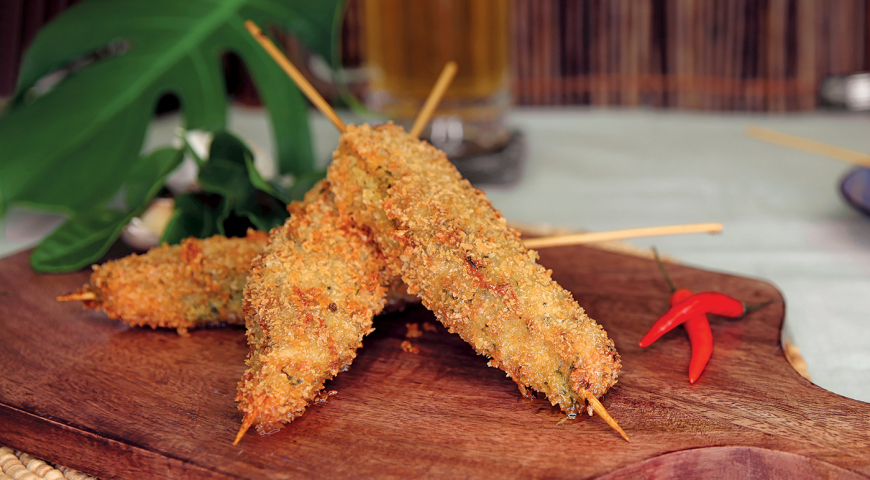 Description
For a quick and easy weeknight meal, prep the marinade and fish on Sunday and enjoy a special dinner with family on Monday or Tuesday.
2 Tbsp
yellow Thai curry paste
1
Kaffir lime leaf (minced)
1 lb
salmon steak or fillet (cut into 3/4" x 5" pieces)
Prep Time:
Cooking Time:
Total Time:
Instructions
In a small mixing bowl, combine the Thai curry paste, mayonnaise, fish sauce, coconut milk, sugar, cilantro and Kaffir lime leaf, if using; stir well.
Divide the salmon into equal portions and thread the pieces onto 8 skewers. Brush the marinade on all sides of each skewer, coating well. Place onto a platter or pan and pour the remaining marinade over the fish. Cover and chill for 1 to 2 days to marinate.
In a deep skillet or fryer, heat enough oil to cover skewers to 350°F. Remove the fish from the fridge and coat with panko. Deep fry for 3 to 4 minutes; remove from oil and place on paper towel-lined platter to drain excess oil.
Serve with sliced cucumber and carrot for a light springtime lunch or pupu. 
Recipe brought to you by:
Find more Quick & 'Ono bites under these categories: