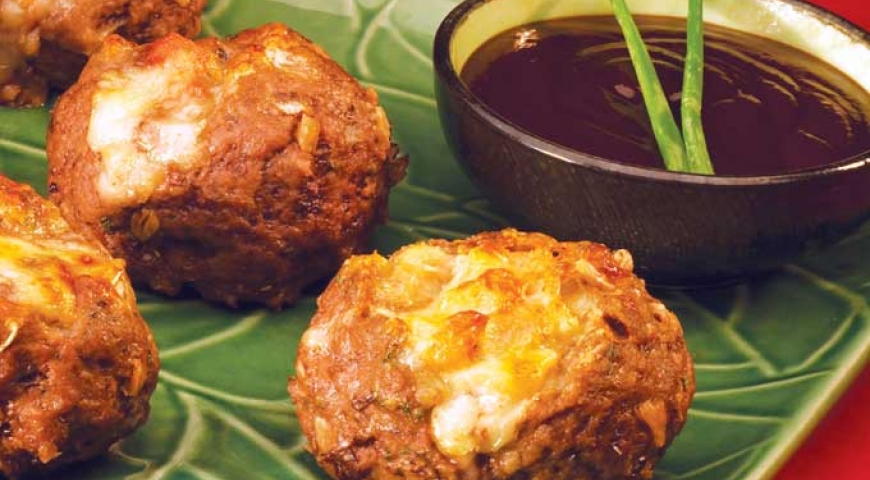 Description
Sometimes you can impress using the simplest and most common ingredients – like these stuffed meatballs:
Portuguese sausage with mozzarella
Kalua pork with swiss cheese
Andouille sausage with cheddar
extra virgin olive oil (or vegetable oil)
1/4 cup
quick cooking rolled oats
3/4 cup
onion (finely minced)
1/2 cup
Italian seasoning
3/4 cup
prepared BBQ sauce
1/2 cup
fully cooked Portuguese sausage (diced; browned)
1/2 cup
shredded kalua pork, chicken, or turkey
1/2 cup
fully cooked andouille sausage (diced; browned)
1/3 cup
mozzarella cheese (shredded)
1/3 cup
Swiss cheese (shredded)
1/3 cup
cheddar cheese (shredded)
Sauté the onion in 1 tablespoon oil until softened, add rolled oats and let cool. Combine with ground beef, parsley and Italian seasoning.  Prepare fillings by browning them separately in a frying pan and drain on a paper towel.  Toss together the meat and cheese in three separate bowls.  To make each meatball, portion out the meat into 9 portions, then press your thumb into the center to create a hole, fill with 1/3 of each filling and pinch together, the last step being to roll into a ball.
Pre-heat oven to 400° F.  Place finished meatballs onto a large baking sheet prepared with non-stick spray.  Bake for approximately 15 minutes, or until a thermometer inserted into the center reads 160° F.  Serve with the BBQ sauce as a dipping sauce.
Recipe brought to you by:
Find more Quick & 'Ono bites under these categories:
Source: