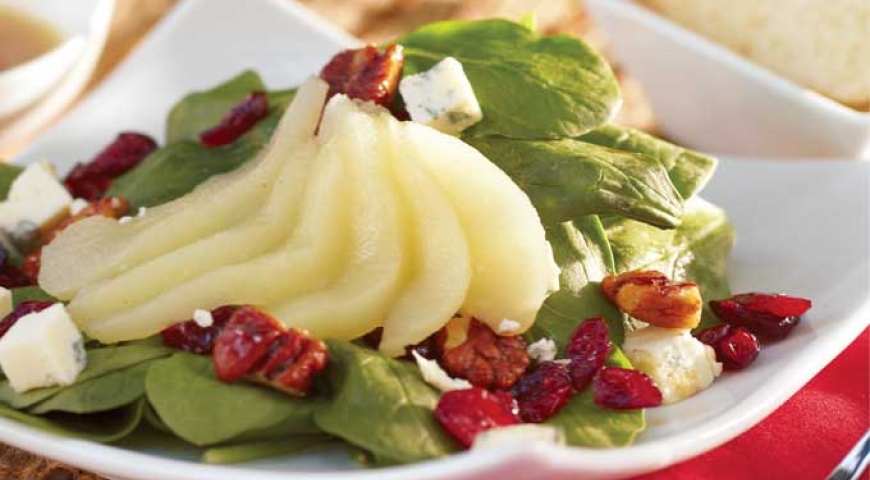 1 can
pear halves (14.5 oz. can; reserve juice)
1 Tbsp
shallots (chopped)
1/4 cup
extra virgin olive oil
2 Tbsp
golden brown sugar
1/2 cup
crumbled Gorgonzola or Bleu cheese
1/4 cup
cranberries (dried)
To make the dressing, put 2 pear halves, shallots, Dijon mustard, olive oil, cider vinegar, and thyme into a blender or food processor. Add salt and pepper to taste. Process for 30 to 45 seconds to thoroughly blend all ingredients.
To make candied pecans, place pecans in a bowl and toss with honey. Sprinkle golden brown sugar over pecans and toss again coating pecans evenly with mixture. Cover a baking sheet with foil and coat with cooking spray. Spread pecans evenly onto baking sheet.  Bake at 325° F for 7 to 10 minutes or until golden brown.  
For a traditional poached pear look, soak the drained pear halves in grape juice in a shallow bowl overnight. To compose the salads, divide the spinach between four salad plates and top with even amounts of cheese, cranberries and candied pecans. Drain the pears, discarding grape juice, slice thinly lengthwise then gently fan out and place on top of each salad. Drizzle with dressing and enjoy!
Recipe brought to you by:
Find more Quick & 'Ono bites under these categories:
Source: