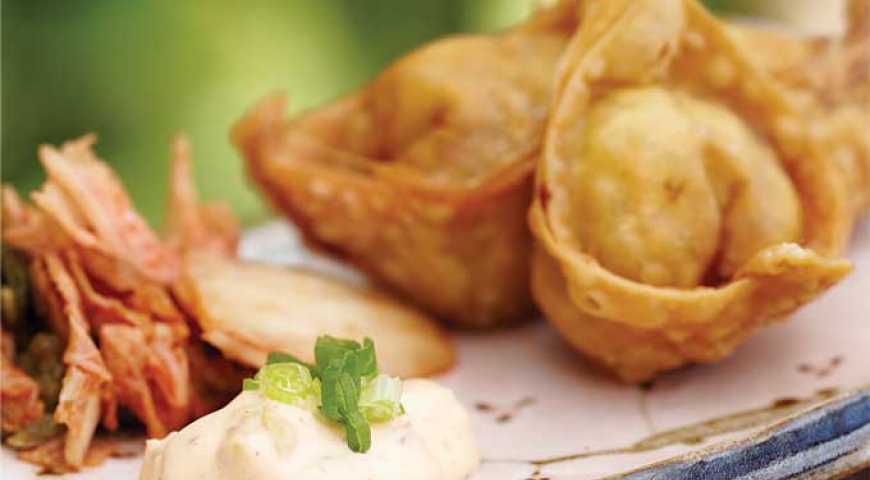 1/4 lb
shrimp (diced very small - can be coarsely pulsed in a food processor)
2 Tbsp
green onions (diced)
1 tsp
ginger pieces (soaked with rice wine)
1 tsp
shichim or ichimi (optional)
In a large bowl, mix together pork, shrimp, green onions, wine (drain out the ginger and discard), salt, white pepper, sesame oil, cornstarch and water.
Place a tablespoon of filling onto the center of the won ton wrapper. Wet the edges of the wrapper, fold up to make a triangle and seal all edges well. Next, wet the two opposite corners of the wrapper and bring them together, making the won ton look like a little boat. Mix all sauce ingredients (mayonnaise, kim chee, 2 tablespoons diced green onions, garlic, sesame seeds, sugar, rice wine, chili oil, shichimi) together and set aside.
Heat oil for frying on medium-high heat. When hot, fry won tons until golden brown, about 10 minutes. Make sure insides are cooked. Serve with sauce and some extra Kim Chee on the side.
Note: Won Ton can be made ahead of time and frozen. Make sure won tons are not overstuffed if freezing because they will expand.
Recipe brought to you by:
Find more Quick & 'Ono bites under these categories:
Source: