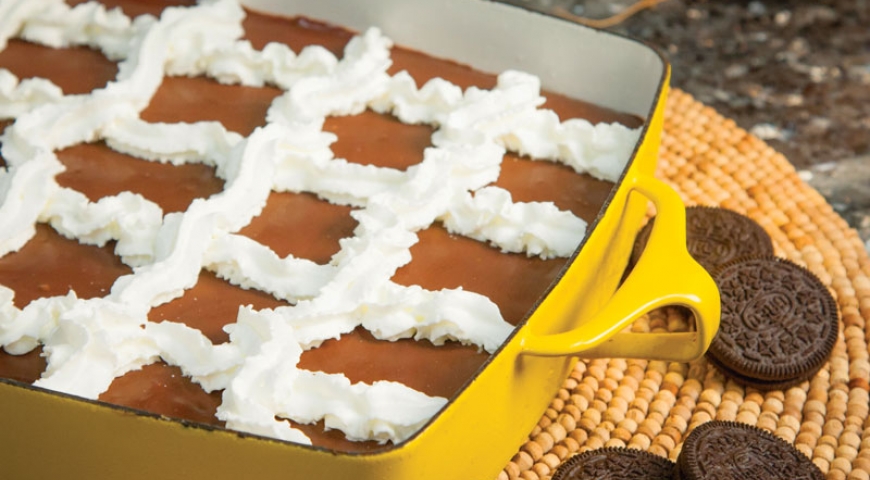 2 cup
semi-sweet chocolate chips
3 Tbsp
ground 100% Kona coffee
Start by making the crust. Separate the Oreo cookies from the white filling (discard filling). In a large bowl or zip-top bag, crush the Oreo cookies into crumbs, and mix with the melted butter. Press the cookie mixture into a 9"x13" pan. Bake at 350° for 10 minutes. When done, remove from oven, let cool and set aside.
To make the haupia filling, mix coconut milk, sugar and cornstarch in a saucepan and cook over medium heat. Stir continuously until liquid thickens. Spread haupia over the cookie crust and refrigerate at least 1 hour.
Lastly, make the Kona Coffee Truffle topping. In a saucepan over low heat, melt butter, whipping cream and chocolate chips until smooth. Add Kona Coffee, stirring frequently. Once smooth and thick, remove from heat and let cool at room temperature for 2 hours.
Finish the pie by layering the truffle topping over the haupia. Serve with whipped cream and enjoy after your Thanksgiving feast!
Find more Quick & 'Ono bites under these categories:
Source:
by Sabine-Maeva Andresen - 2014 Kona Coffee Festival Recipe Contest 3rd Place Amateur Dessert Winner