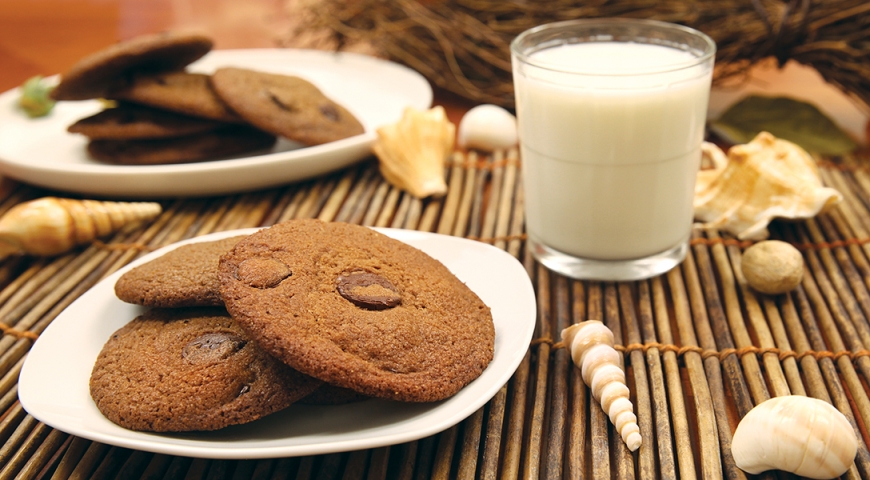 1 cup
unsalted butter (room temperature)
1 cup
vegetable shortening
2 tsp
pure vanilla extract
2 cup
creamy peanut butter
1 1/2 cup
light brown sugar
1/4 cup
100% Kona Coffee (very strong brewed)
2 cup
semi-sweet chocolate chips (jumbo)
Prep Time:
Cooking Time:
Total Time:
Instructions
Preheat the oven to 350°F. In a large mixing bowl, cream the butter and shortening with a stand or hand-held mixer. Add the eggs and vanilla; beat to incorporate. Then, stir in the peanut butter until smooth.
In a separate bowl, sift together the light brown sugar, raw sugar, flour, cocoa powder, baking soda, baking powder and salt. Add the sifted dry ingredients to butter mixture half at a time, alternating with the brewed coffee. Then add the chocolate chips and mix thoroughly. Cover and refrigerate for at least 1 hour or overnight.
On a parchment paper lined baking sheet, scoop 6 dough balls using a 4 oz. ice cream scoop. Cover the dough balls with a sheet of wax paper and with a flat bottom object (a salt canister works well), press the dough balls down until they form a flat disc about ½" thick.
Put into the oven and bake for about 12 to 14 minutes, or until the edges are lightly brown. Remove from the oven and cool on pan for about 15 minutes. Remove from pan to cool completely. Makes approximately 36 large cookies.
Find more Quick & 'Ono bites under these categories:
Source:
Joseph Granato, Kona Coffee Recipe Winner 2017: Amateur Sweet - 3rd Place