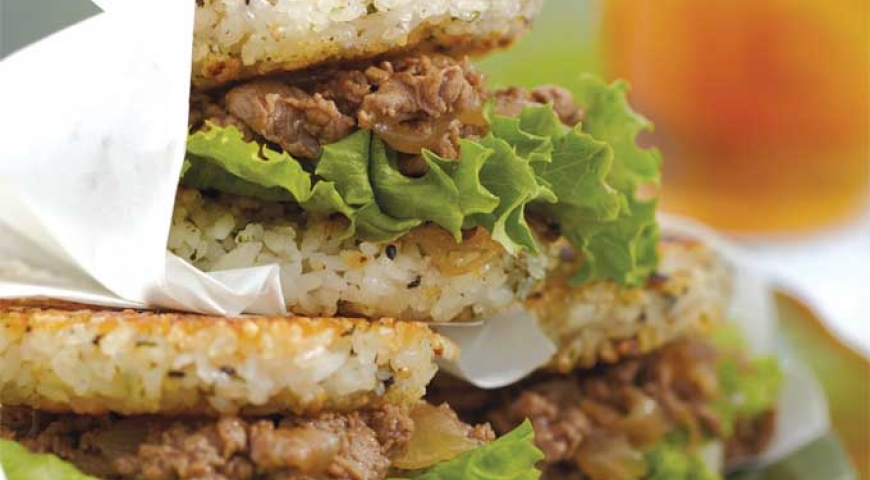 5 cup
cooked short grain rice
1
small onion (thinly sliced)
1 tsp
ginger (minced; optional)
Mix furikake with rice. Place about ¼ cup of rice on plastic wrap. Wrap the rice into a ball using the plastic wrap and then press it down to make a ½" thick "bun". Repeat with the remaining rice. Heat pan on medium heat. When hot, add cooking oil and rice patties. Cook until golden brown, about 4 minutes, then flip over and repeat. Set aside.  
Heat pan on medium-high heat. When hot, add cooking oil and onions. Sprinkle ½ teaspoon salt and stir-fry for about 5 minutes, until onions start to caramelize. Add beef and continue browning for about 2 minutes, then add ginger, soy sauce, salt, sugar and sesame oil. Cook for another 2 minutes, just until the meat is done. Turn off stove.
Assemble burgers by placing one piece of lettuce on a rice patty, then about ¼ yakiniku filling and topping off with another rice patty. When serving the burger, wrap half the burger in wax or parchment. This will help to keep the juices in and help the burger stay together.  
Recipe brought to you by:
Find more Quick & 'Ono bites under these categories:
Source: