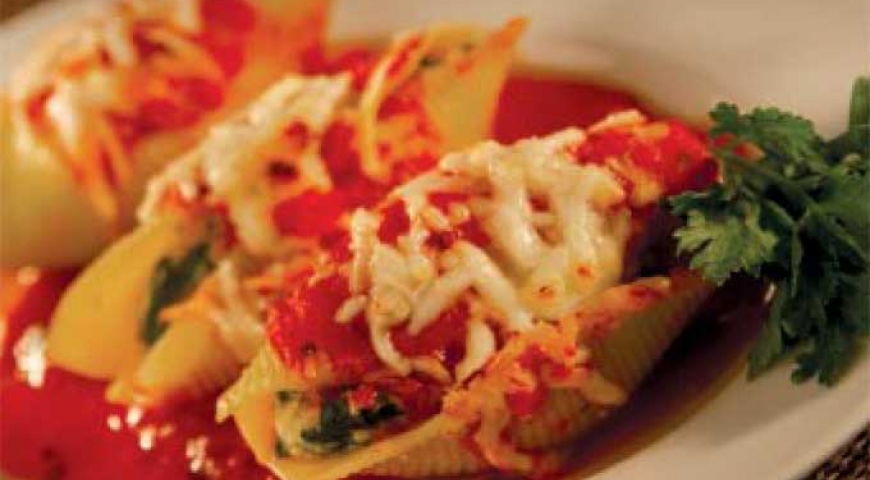 Description
There are some things that I always have in my refrigerator and pantry, which is where I got the inspiration for this recipe. This is an easy yet deliciously satisfying dinner.
1
jar of your favorite prepared pasta sauce
1 pkg
frozen chopped spinach (defrosted and drained of excess liquid)
1 cup
low-fat cottage cheese (blended until smooth)
1/2
block firm tofu (crumbled)
1/2 tsp
red pepper flakes (optional)
fresh ground black pepper (to taste)
1/2 cup
parmesan cheese (plus more for sprinkling)
Pre-heat the oven to 325° F. Cook the pasta shells according to package directions, but pull 2 to 3 minutes early (you especially don't want to overcook the pasta since it will be baked). Drain and set aside.  
In a bowl, combine the spinach, cottage cheese, tofu, and tuna and mix thoroughly. Stir in the Italian seasoning and Parmesan cheese. Then, add salt & pepper to taste (or use red pepper flakes).  Coat the bottom of a  9" x 13" rimmed baking dish with a thin layer of sauce. Stuff each shell with a golf ball size portion of the mixture and lay shells in a single layer in the baking dish. Drizzle with the remaining pasta sauce. Sprinkle with the shredded cheese and some additional Parmesan cheese, then bake for 15 to 20 minutes (until heated through and the cheese is melted).
Recipe brought to you by:
Find more Quick & 'Ono bites under these categories:
Source: