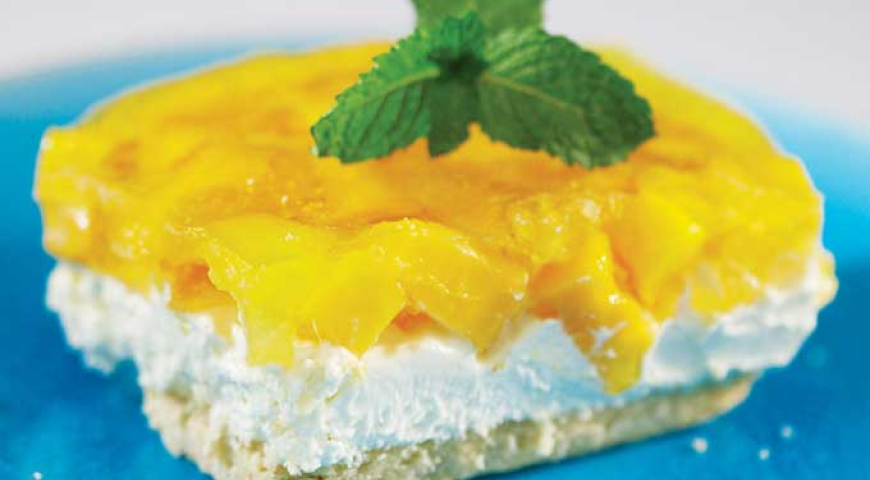 Description
Here's what to do with all the rest of those ripe, juicy mangoes.
1/2 cup
walnuts (finely chopped)
2 pkg
low fat cream cheese (8 oz. packages; just about room temperature)
2
envelopes unflvored gelatin
1 crtn
lemon flavored Jell-O
3 cup
fresh or frozen mango (cut into ½" chunks)
For the crust, use a pastry whisk or a fork to cut butter into the flour, when mixture is crumbly, add nuts and blend in. Press crust into a 9" x 13" baking pan. Bake at 350° F for 20 to 25 minutes. Cool to room temperature.
To make the cream cheese filling, mix the cream cheese with a fork until smooth then add vanilla and a cup of sugar. Fold in Cool Whip, pour over crust and chill in the refrigerator (if you want a thinner pie, cut the cream cheese filling ingredients by half).
To make the mango topping, in a small bowl, pour the boiling water, and then slowly add the gelatin and stir until dissolved. Add the cup of cold water, cup of sugar, salt, lemon juice and the Jell-O mix, stir well and cool. Arrange a single layer of diced mango onto the cream cheese layer and slowly ladle the Jell-O mixture over the mango. Chill until firm and serve.
Recipe brought to you by:
Find more Quick & 'Ono bites under these categories:
Source: